Robert Gibbs Doesn't Think Angry James Carville 'Understands All The Facts' On Oil Spill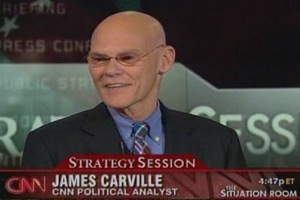 Former Democratic strategist and CNN analyst James Carville has been making a lot of noise against the White House for not getting the oil spill in the Gulf of Mexico– near Carville's Louisiana home– under control for the past couple of weeks, but until now has not been referenced by the White House directly. Now, Press Secretary Robert Gibbs has responded, saying that he doesn't "understand all of what we're doing."
CNN reports that Gibbs was asked about Carville's comments on Air Force One, and suggested that Carville was merely not informed enough to come to the conclusions that he has:
Amid repeated criticism from the Democratic strategist and CNN contributor over the president's response to the BP oil spill, White House Press Secretary Robert Gibbs told reporters Friday Carville doesn't "understand all of what we're doing."

"Truthfully, I think the president answered this yesterday. I think people – I don't think James understands all of what we're doing. I don't think James understood the facts," said Gibbs on board Air Force One when asked what the president thinks that some supporters like Carville have been critical of the administration's response to the crisis. In a press conference Thursday, Obama insisted he and his administration understood the magnitude of the crisis from day one.
Carville's increasingly angry comments against the President, given his lifetime loyalty to the Democratic party, came as a surprise. Carville has criticized Obama for seeming to not be distressed enough about the spill, for being misled by advisers, and demanded that the White House do more to stop the leak. Given the level of passion Carville has been expressing on TV since the news of the leak spread, Gibbs' response probably won't do much to keep him quiet.
Have a tip we should know? [email protected]