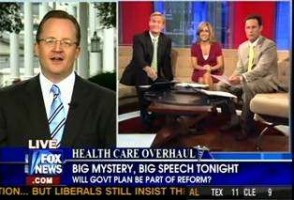 At today's White House press briefing, I wanted to give Press Secretary Robert Gibbs a chance to respond to criticism that the administration is attacking Fox News with plastic army men.  Or something.
Gibbs resisted the bait at first, instead opting to rehearse his next career day lecture, but zeroed in a little on followup:
TC: How would you respond to criticism that the White House's current posture toward Fox News constitutes some kind of bullying, or chilling of speech?

Robert Gibbs: (long pause) We…get questions throughout the day, seven days a week, about policies here at the White House, questions you guys want answered, and our goal is to make sure that you have the facts, that you do your job.  That's what we do for everybody.

TC: Well, specifically, the comments by Anita Dunn about Fox not being a real news network…

Robert Gibbs: I have watched many stories on that network that I have found not to be true.  I think everybody in this room has been likely on the other end of a phone conversation with me when I've had issues with your stories.  I don't think that's news.
For the record, I've never been on the other end of one of those phone calls.  Here at Mediaite, we're self-correcting.
I'm not sure what to make of Gibbs' answer.  He flatly states that many of the stories on Fox aren't true, but then he tries to give the rest of us a bite of the sandwich, too.  Not quite an olive branch, and not quite an escalation.
Gibbs is correct in observing that a wider net needs to be cast in terms of criticizing media coverage, a theme he touched on in August during the heat of the health care reform debate.   Joe Scarborough tried out the media's most popular bait-and-switch, where they talk about the public option, but quote poll numbers on the overall reform effort.  This is part of a longstanding campaign by many media outlets to declare the public option dead.
Fox seems to be relishing their position here, as the proverbial ink purchasers.  If nothing else, Gibbs has helped them spill a little more.
Have a tip we should know? tips@mediaite.com