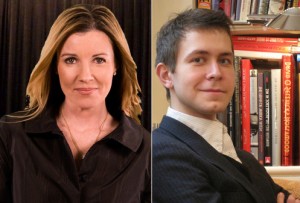 Film and thumb fans rejoice, Roger Ebert has announced the hosts for his new version of At the Movies. The reboot of the show he started with Gene Siskel 35 years ago will be hosted by the Associated Press' Christy Lemire and Ignatiy Vishnevetsky of movie website Mubi.com.
Lemire had already been announced but was originally set to co-host with the New York Times' Elvis Mitchell. However, after some test shows were taped, Mitchell was dropped because of, reportedly, a lack of chemistry between the two. Vishnevetsky is only 24 and will hopefully gain more good will from viewers than the last young host, Ben Lyons, who was rejected by fans as not knowledgable enough and even incurred a subtle criticism from Ebert himself in a piece that didn't mention his name but was widely accepted as being directed towards him. In the press release sent out today, Ebert describes first seeing Vishnevetsky speak and how he was "struck by the depth and detail of his film knowledge, and by how articulate he was."
The new version of the show will premiere on January 21st and will be syndicated on PBS as well as the Armed Forces Network. It will return to the "Thumbs Up/Thumbs Down" format that the previous iteration, which was canceled by ABC last year, had dropped following Ebert's departure for health reasons. The new show will be called Ebert presents At the Movies, although the press release spells it Ebert Presents at the Movies which is probably a typo considering it doesn't make any sense unless this is a show of Roger Ebert presenting things in a movie theater and not, as one would assume, a new version of At the Movies that he is presenting.
Sorry. Like I'm in any position to correct other people's typos.
Have a tip we should know? tips@mediaite.com