'Roger Was the King There': Jedediah Bila Explains How Ailes Got Away With Alleged Harassment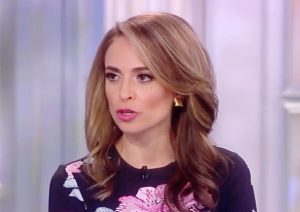 Ahead of Megyn Kelly's appearance on the show tomorrow, the hosts of The View took some time to ruminate on the allegations of sexual harassment leveled by female Fox News employees at former head honcho Roger Ailes. (Reportedly, it was Kelly's internal complaint that cemented his ouster.)
Jedediah Bila once worked at Fox News, so regarding the deluge of female employees speaking out against Ailes' alleged harassment, Whoopi Goldberg asked, "What made it take so long, do you think?"
"You want to keep your job!" Joy Behar said.
"I understand people want to keep their jobs but then, do you weaken your point by staying someplace 20 years and then saying, 'Well, this has been happening 20 years but I stayed and I made my money'?"
As the other hosts moved on to debating if an HR department that works for the company can even be effective against the boss of said company, Bila clearly stated that she was never harassed by Ailes, as she has before. Then, she said this:
This wasn't my experience with him but I do understand why if it had been, it would have been scary for me because there is a PR team — Roger was the king there and if you go against him I do understand why someone would feel like, "If I don't have some backup, where am I going to be left at the end of this?"
She made a good point to counter the argument that the women who came forward against Ailes this summer were only seeking publicity or money or else they would have spoken out sooner.
[image: screengrab]
Have a tip we should know? tips@mediaite.com