Roland Martin Interrogates White Candidate Who Won Texas Race by Pretending to Be Black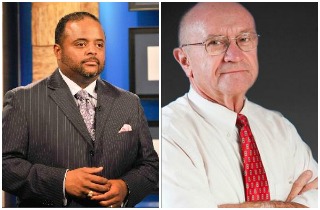 On Tuesday, NewsOne host Roland Martin invited Dave Wilson, a white candidate who won in a race for Houston Community College Board of Trustees in a heavily African-American Texas district by strongly implying in his campaign literature that he was black, on his program to clarify the thinking behind his successful, if dishonest, campaign.

"Dave essentially gave the impression that he was a brother and Dave won," Martin said in Wilson's introduction, noting that his strategy successfully unseated a 24-year black incumbent.
RELATED: White Candidate Who Pretended to Be Black to CNN: Only 'Liberal News Media' Feels Deceived
"I did have a conscious effort to run this race on the issues and not skin color," Wilson said. He said he knew that his district, which voted for President Barack Obama by more than 80 percent, was unlikely to elect a white conservative unless he "focused on the issues."
Martin said that Wilson bragged that he was endorsed by someone with the same name as a local African-American congressional representative when it was in fact his cousin by the same name – a disclaimer which appeared in the fine print on his campaign literature.
"Dave, do you believe that was misleading the voters?" Martin asked.
Wilson replied by saying that his opponent sent out literature accusing him of being a "right-wing hatemonger" in favor of "the return of chain gangs." He said that his campaign sent out the mailer in question in response to this attack.
"Because he misled the voters about you, you would mislead the voters," Martin clarified.
"My mother would never approve of – two wrongs don't make a right," Wilson answered. "I wanted to defuse the issue of race and I wanted people to get back to the issues."
After the break, Martin cornered Wilson on his claim that "it doesn't matter" that he did not put his own photo on campaign literature because his opponent did.
After battling over the legacy of Rev. Martin Luther King, Martin was finally able to get Wilson to concede that "some people could have been confused" by his having implied that he was endorsed by a local congressman rather than his cousin with the same name.
Listen to the segments below via the Roland Martin Radio Show:
[Photo via Dave Wilson/rolandmartinreports.com]
— —
> >Follow Noah Rothman (@NoahCRothman) on Twitter
Have a tip we should know? tips@mediaite.com