Ron Paul's Contemptible Tweet About Fallen Navy SEAL: 'He Who Lives By The Sword Dies by The Sword'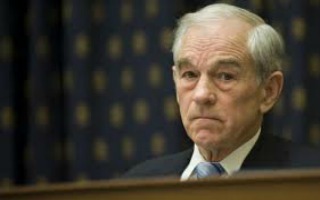 Once protected from scrutiny by both aides trained in press relations and friendly journalistic outlets happy to leave the most incriminating statements on the cutting room floor, Twitter has allowed for a unique level of intimacy with America's elected representatives. Perhaps too much intimacy, as former Rep. Ron Paul (R-TX) demonstrated on Monday with a supremely ill-advised tweet in which he attempts to raise awareness about an important issue with a remarkably offensive 140 character eulogy of a fallen Navy SEAL.

RELATED: NY Times Buries The Lede: Anderson Cooper's Ratings Surge At 8PM
U.S. Navy SEAL Chris Kyle was killed on Saturday. Kyle had been dubbed America's deadliest sniper – with 160 confirmed kills, he was the most lethal sniper in U.S. history. The author of American Sniper, Kyle was a tireless advocate of the military and those who served.
He spent much of his time working with veterans through the trauma of their experience overseas and helped many readjust to civilian life. One of those veterans was Eddie Ray Routh, a solider battling with Post-Traumatic Stress Disorder. On Saturday, Routh shot and killed Kyle at a shooting range in Texas.
"Chris Kyle's death seems to confirm that 'he who lives by the sword dies by the sword,'" Paul wrote on his Twitter account. "Treating PTSD at a firing range doesn't make sense."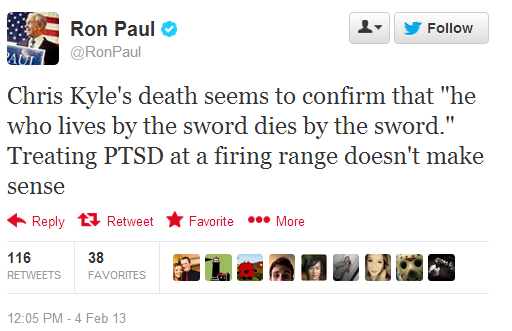 Ron Paul has positioned himself politically as the "anti-war Republican" candidate over the course of his two ill-fated presidential bids. Paul's latest tweet, however, exposes a sentiment many suspected he sought to tamp down in the 2012 presidential primaries when he aired ads featuring pro-Paul veterans and touted the campaign donations he received from active duty servicemen and women.
Paul has long opposed American military action – he contemplated casting a "no" vote against the 2001 invasion of Afghanistan in the wake of the 9/11 attacks – but the former veteran has begun to conflate the missions that he opposes with the men and women who carry those missions out.
The sentiment Paul broadcast in this tweet betrays a contempt for Kyle that is, at best, ill-timed. At worst, it displays a hatred for a man who would dare display such efficacy in pursuing and incapacitating so many of America's enemies on the battlefield.
Paul would be smart to apologize for this insensitive remark, but his political opponents should be thankful for the clarity this unguarded moment has provided the general public. Though the 2012 campaign is long over, Paul's most stalwart supporters continue to insist that the Texas libertarian is the only politician who has the best interests of the troops at heart. This tweet would suggest otherwise.
> >Follow Noah Rothman (@NoahCRothman) on Twitter
Have a tip we should know? [email protected]