Ronan Farrow Earns Praise from NY Times for Dressing Like a Schlub on Election Day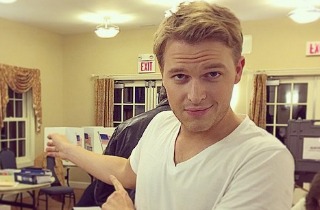 Who knew that MSNBC host Ronan Farrow dressed in a baggy white undershirt is befitting of praise from the "fashion and style" section of the New York Times?
On Tuesday, Farrow posted two photos of himself on Instagram partaking in Election Day activities. In the photos, he's dressed in blue jeans and a white v-neck undershirt that was perhaps one size too large.
Even so, the otherwise handsome Farrow was showered with compliments from his followers on Twitter, who he dutifully retweeted.
"Well. At least we'll always have Ronan Farrow in that white v-neck," tweeted one female fan.
"If it wasn't for Ronan Farrow and his white shirt, I'd be asleep in fetal position already," tweeted another.
"I have a headache. What do I do? Take a Tylenol? Nope, stare endlessly at Ronan Farrow and his white t-shirt," said a third. "Instant cure."
The Times' "fashion and style" is a place typically reserved for high-end fashion, new and edgy trends and celebrities of the fashion industry.
Farrow's wearing of an undershirt in public also makes the cut.
"Nothing like a little unexpected eye candy to brighten up what was — for some voters, at least — an otherwise gloomy election night," wrote editor Stuart Emmrich in a shuddersome Times style story.
"[S]ome people clearly unhappy with [the] results found solace in Ronan Farrow's lithe figure," he continued, noting that Farrow was "dressed fetchingly in a white form-fitting V-neck T-shirt."
Sexy!
Farrow responded responded to the article on Twitter in probably the only way he could. "Glad you liked my coverage," he said.
Well. At least we'll always have @RonanFarrow in that white v-neck. #NeverForget

— hannah orlansky (@hannahorlansky) November 5, 2014
If it wasn't for @RonanFarrow and his #whitetshirt I'd be asleep in fetal position already. #election2014 @msnbc

— Mari-Anne Kehler (@MaKehler) November 5, 2014
I have a headache. What do I do? Take Tylenol? Nope, stare endlessly at @RonanFarrow and his white t-shirt. Instant cure.

— Jessica Cornelious (@mocasoul) November 5, 2014
Glad you liked my coverage. RT @NYTStyles: Ronan Farrow's election selfie set off a flurry of reactions on Twitter. http://t.co/846t3sjR8m

— Ronan Farrow (@RonanFarrow) November 5, 2014
Have a tip we should know? [email protected]