Ronan Farrow's Debut Gets Major Media Love While Joy Reid Is Ignored
Concha: Farrow's Debut Gets Major Media Love While Joy Reid Is Ignored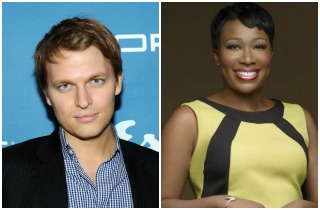 Three shows made their triumphant debuts out of 30 Rock on Monday:
Late Night with Seth Meyers.
Ronan Farrow Daily.
The Reid Report.
Two of these three hosts received some nice attention from those in the press: Meyers and Farrow. Ms. Reid? Well, let's just say she somehow got less much media coverage than that little skirmish going on Venezuela right now (See: Hardly any outside of Tommy Christopher's preview).
The typical 2014-kind-of-reaction to this, one that's all the rage these days, is to scream RACISM. Why else would the New York Times, Washington Post, Entertainment Weekly, Jon Stewart and Bill Maher fall over themselves in previewing Mr. Farrow's show, but ignore Reid…who has infinitely more broadcast experience than her younger lead-in? Both worked with (Reid) or in (Farrow) the Obama Administration, but only one has actually guest hosted programs on MSNBC before (Reid).
So the answer is obviously bigotry, with the lily-white Farrow getting all of the attention for his 1:00 PM show, with the African-American Reid being snubbed by the press in launching her 2:00 PM offering. It's no different than NBC News anchor Brian Williams ignoring Arsenio Hall when running down a list of late-night hosts last week (which were all white in the graphic, by the way).
And while we're at it, let's throw misogyny into the mix as a good reason for the Reid snub as well. The War on Women continues down an ugly path…
So now that we have the mocking-racism-and-sexism charges-exercise out of the way, let's look at the real reason Farrow is a media darling while Reid is overlooked:
Celebrity.
Farrow—who looks like Frank Sinatra more than Frank Sinatra Jr. ever has—is officially the son of Woody Allen, whom he recently accused (on Twitter) of molesting his sister, Dylan. The New York Times followed up on Ronan's accusation shortly thereafter by publishing an open letter written by Dylan, who claims Allen sexually assaulted her when she was just seven years old.
Allen strongly denies the claim, calling it "disgraceful". No charges have ever been filed. But this kind of news—celebrity crimes and misdemeanors—is partially what cable news is now built on. Controversy is never a bad thing, and Ronan got some built-in heading into the gig.
Is he really Sinatra's son? (Ronan's now-famous Tweet makes a solid point: "Listen, we're all *possibly* Frank Sinatra's son").
Will he use his new show to slam Woody daily?
Will he fail because of his age, being the youngest host on any of the cable news networks?
Or…will he bring a fresh perspective to an otherwise-aging medium? (Note: Forbes has ranked him number one among its "30 Under 30″ most influential people in law and policy).
It could also be noted that Farrow is bixsexual…but why bother? Particularly after judging by the ho-hum reaction to Anderson Cooper and Robin Roberts coming out, it seems nobody rightly gives a damn about the sexual orientation of their news hosts or anchors. Sometimes progress can be measured by apathy. This too is a good thing…
As for Joy Reid, there is no celebrity or controversy. She graduated Harvard in 1991. She's worked in radio and television news since '98. She is married and is producing a documentary with her husband called The Fight Years about the sport of boxing in Miami in the 1950s and 60s.
In other words, Reid is the exact opposite of Farrow on the sensationalism front.
MSNBC President Phil Griffin has helped add to the Farrow hype as well. Here's how the 26-year-old got his own show despite having zero broadcast experience:
"I started following him on Twitter and loved the way he talked about things. Within 20 minutes I wanted to hire him. He's got it," explained Griffin.
No pressure or anything…
So now the reviews are coming in after Farrow completed his first show on Monday. Mixed is the best way to describe the debut. But to judge the new host after one whole program is patently unfair. Sitting in the Big Boy Chair is much more challenging than it looks given all the moving parts of live television. Check back in a month for a true assessment.
As for the reviews on Reid, those are difficult to find outside of social media and media blog message boards.
Three shows made their triumphant debuts out of 30 Rock on Monday.
Seth Myers replaced Jimmy Fallon, who replaced Jay Leno on NBC. The debut got the media attention one would expect.
Ronan Farrow and Joy Reid were launched on the same day at MSNBC.
The former got more attention than Myers.
The latter got hardly any attention at all.
But as Mr. Farrow may well learn, living up to the hype can be harder than succeeding with no hype at all.
— —
>> Follow Joe Concha on Twitter @ConchaMedia
Have a tip we should know? tips@mediaite.com