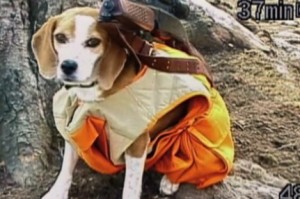 The topic of gun safety and regulation has become ubiquitous in recent months, but very little attention has been paid to the real menace: our four-legged alleged best friends. In a trend that's more common than you might think, a Florida man was shot by his dog this past weekend when the pooch "kicked" the man's 9 millimeter (or is it K-9 millimeter?) handgun. The weapon, which owner Gregory Dale Lanier thought was unloaded, discharged, wounding Lanier in the leg. The dog, whom one news report identified as "Fido," was not charged, and Lanier's injury was described as not serious. From Highlands Today:
A Frostproof man reported to Sebring police on Feb. 23 that he was traveling in his truck when his dog kicked a gun on the truck's floor, resulting in him being shot in the leg, according to a report.

Sebring police ruled the shooting accidental, and apparently the victim was not seriously injured.

Sebring Police Cmdr. Steve Carr said police did not arrest the dog or detain the animal, pending the investigation. He said he has never heard of a case like this.

Gregory Dale Lanier, 35, the victim, told investigators that he thought the gun in his pickup truck was not loaded.

He said that he was driving on State Road 17 North "when his dog kicked his unloaded .380 pistol causing it to fire and the bullet struck his leg. Lanier said he heard boom, saw smoke and felt a burning in his leg."
A police spokesman* tells Mediaite that the most unusual aspect of this case was the choice of weapon. "These animals generally prefer the A-Arf!-15," the spokesman* said.
Dog-on-man shootings are not as rare as you might think. In November of 2011, a Utah man was shot in the ass when his dog stepped on his shotgun, and this past September, a French hunter lost a hand when his basset hound pulled the trigger of his shotgun while leaping into his lap "for a cuddle."
Even taking safety precautions doesn't guarantee you won't get capped by your dog, as this California man discovered:
The Merced County Sheriff's Department said the 53-year-old man was hunting with a partner off Highway 152 near Los Banos when he set down his shotgun to retrieve his decoy ducks.

The shotgun was loaded but the safety was on, according to authorities.

The victim was about 15 yards away, retrieving his decoys, when his female black Labrador retriever stepped on the gun.

Authorities said the dog disengaged the safety and hit the trigger at the same time, firing a shell with #2 shot. The man was struck in on the left side of his upper back.
British blogger John May has documented ten other examples of dogs shooting men (and one fox who shot and killed his would-be hunter), including this poetic/cautionary tale, which should give would-be animal abusers pause:
A man who tried to shoot seven puppies was shot himself when one of the dogs put its paw on the revolver's trigger.

Jerry Allen Bradford, 37, was being treated at a hospital for a gunshot wound to his wrist.

Bradford said he decided to shoot the 3-month-old shepherd-mix dogs in the head because he couldn't find them a home, according to the sheriff's office.

On Monday, Bradford was holding two puppies — one in his arms and another in his left hand — when the dog in his hand wiggled and put its paw on the trigger of the .38-caliber revolver. The gun then discharged, the sheriff's report said.
And who can forget the Michigan hunters who thought it would be cute to dress their dog up as a hunter, immortalized in Michael Moore's Bowling For Columbine:
There is a natural impulse to look for lessons in these tails of gun violence, the most obvious of which is that the best way to stop a bad dog with a gun is a good dog with a gun. We should train and arm all dogs, like this guy did.
Seriously, though, the most recent of these stories, the Florida man who thought his gun wasn't loaded, demonstrates that guns are perfectly safe, until they aren't. There's an excellent argument to be made that the owner of that gun should have taken more care, and maybe had to demonstrate that he knew how to use the weapon safely. What's ironic is that he wasn't required to have a license for that handgun, but he was required to have a license for the dog.
*This police spokesman is a satirical construct.
(h/t Alan Colmes)
Have a tip we should know? tips@mediaite.com