Rupert Murdoch: FNC Not All Republicans, Greta "Close To The Democratic Party"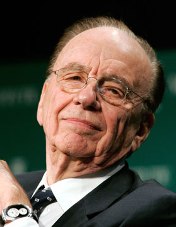 News Corp. CEO Rupert Murdoch rarely discusses Fox News and its standing in cable news, even as it remains one of the most profitable parts of his entire company.
But last night the CEO weighed in on the politically charged issue, and made an unsurprising admission – FNC has a bias…toward high ratings.
The Huffington Post's Sam Stein reports on the Murdoch forum for the public affairs TV series, The Kalb Report.
In a discussion about Sarah Palin joining the network, he pointed to the long-time success of Fox CEO Roger Ailes. "I know whenever he [uses Palin on air] the ratings leap…I'm not adverse to high ratings," he said.
He also waded into political territory, commenting on FNC competitors MSNBC and CNN, whose employees he said "tend to be Democrats" while FNC's "are not Republicans." But as Stein reports, Murdoch was asked "to name a single Democrat who worked for Fox News." Here's how it went:
"They are certainly there… Greta Van Susteren is certainly close to the Democratic Party," he said, after blanking on names first and insisting that Ailes would have a long list. "She doesn't do many political stories. She is just a great journalist… but people who have been involved in Democratic politics and so on, yeah we have people…"
Van Susteren may be surprised to learn just how close she is to the Democratic Party. It is true her husband, John Coale, has advised several prominent Democrats in the past, including Nancy Pelosi and Hillary Clinton. But he also informally advised Sarah Palin. Of course, revealing the political affiliations of say a random Fox News correspondent is not appropriate either.
Will Greta respond through her favorite new media methods – on her blog or on Twitter?
—–
» Follow Steve Krakauer on Twitter
Have a tip we should know? tips@mediaite.com