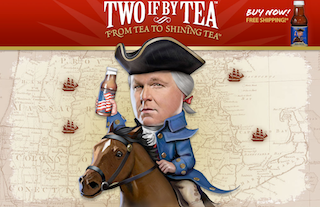 Those people watching the live stream of Rush Limbaugh's show today were surprised to find the camera feed suddenly go down during the show. Limbaugh quickly ended any panic, telling viewers that the camera was off "for a reason." The reason? He was gearing up to make a huge announcement, one that he's been hinting at for a while. Well, what was it? Is he pulling a Beck and starting his own network? Is he running for president?! No! He's starting his own sweet tea line!
The brand is called "Two if by Tea" and, if you can't tell by the name it's apparently "a modern twist on the famous line 'one if by land, and two if by sea' in Henry Wadsworth Longfellow's poem, 'Paul Revere's Ride.'" It even features a drawing of Limbaugh as Revere for the logo. As Limbaugh explained, a portion of the proceeds will go to the Marine Corps-Law Enforcement Foundation.
It comes in four flavors, Original Sweet Tea, Diet Original Tea, Raspberry Tea, and Diet Raspberry Tea and it's available only by order through the web. Limbaugh explained that this was the only "fair" way to do it as they wouldn't be able to get it to every store. Don't worry though, the website is already up and running! Limbaugh proudly explained that, unlike Apple, when he announces a product, it's ready to go that day.
The website also contains a letter from Limbaugh explaining the product. I think it only makes sense to post the whole thing:
"June 15, 2011

Dear America,

The Liberals are coming.

The Liberals are coming.

My good friend Paul Revere laid out the blueprint of how to deal with this. Sound the alarm! One if by land, Two If By Tea™!

Two If By Tea™ represents traditional American values of capitalism and the pursuit of excellence. Each bottle is designed to rise above the sameness and mediocrity that threatens our great nation. Just grab a 12-pack and join the fight to preserve the America we know and love. It's worth it!

Our scientific panel of tasters has been working for years to develop the perfect recipe of tea – one that is fit for battle. All those years of rigorous testing have left us with the best quality tea we sell today.
Two If By Tea™ is made just the way my mother used to make it, simple and satisfying. Nothing fancy here, just the simple pursuit of excellence in every bottle of tea we make. Whether you're kicking back on the front porch reflecting on the greatness of our country or firing up the barbeque on a nice hot summer afternoon, Two If By Tea™ is the perfect accompaniment, no matter what the occasion. You will be dazzled by the excellent taste of Two If By Tea™ in every sip you take because it is not too sweet, strong, or fruity but just right.

In the spirit of keeping it simple, we started with two basic flavors: Original and Raspberry. We've used some of the finest traditional black tea available to make each flavor unique and delicious. The ingredients are picked by the finest pickers, selected by the finest selectors and produced by the finest producers. If you are trying to cut back on calories, each Two If By Tea™ flavor is available in a diet version! You get all the goodness of our regular flavored teas calorie free and with less sugar. Best of all, you don't have to put up with that artificial chemical aftertaste that you find in many other beverages.

Developing and bringing Two If By Tea™ to market has been a unique American experience for all of us who worked on the project. We were all reminded of the blessings bestowed upon our country by our Founders and the Constitution, who fought to create and safeguard the fundamental values of a free society, knowing that it was limited government and belief in the greatness of the American people that established the concept of American Exceptionalism.

Fellow Americans, hold on to our exceptional values, stand up against those who want to suppress your individual rights and above all take pride in being an American! While you're at it, join me in drinking a bottle of my tea as we admire the great United States of America and the military and law enforcement officials who fight to defend our freedom every day. Thank God, yes God, for the blessings of life, liberty, the pursuit of happiness and of course, this wonderful drink – Two If By Tea™!

Rush Limbaugh"
What's that? Paul Revere was good friends with Rush Limbaugh and was actually talking about tea? I see. Well, I guess it's time to edit the Wikipedia page again.
Watch the clip of Limbaugh announcing the product on his show below:
Have a tip we should know? tips@mediaite.com