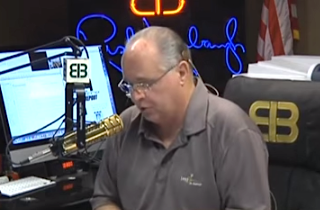 Five days after the UCSB shooting rampage, Rush Limbaugh pointed to "liberalism" for blame.
On his radio show Wednesday, Limbaugh lamented that the mainstream has blamed Elliot Rodger's shooting spree on the tea party and conservative talk radio — though he didn't cite an example — before blaming the shooter's actions on the influence of liberalism.
"We always he eschew that, we don't play that game because it's cheap," Limbaugh said of the impulse to bring politics into a tragedy like this one. "But it's fun to kind of reverse roles now and then."
When Limbaugh looks at the coverage of incidents like the UC Santa Barbara shooting, he sees people searching for something to blame other than the perpetrator himself. "The tea party, poisoning their minds," he said. "Conservative talk radio, filling them with hatred and bigotry." Or, perhaps more insidiously, "the gun, the NRA."
The more Limbaugh has looked at Rodger's 141-page manifesto, "the more obviously we see he was conditioned by liberalism," he said. The host said he believes Rodger "resented the rich" because he thought he mother was "selfish" for not marrying someone wealthy. Later, he linked Rodger's words to the Occupy Wall Street movement, saying, "This is exactly the kind of mindset the Democrats create with this class warfare rhetoric."
RELATED: Facebook Photos Show Extravagant Life of Alleged Santa Barbara Shooter
And because Rodger "hated women," Limbaugh saw a link to the Democratic Party, which is "out there talking about the 'war on women' all the time."
"When this kind of thing happens, we do not make a mad dash to try to blame this and politicize this," Limbaugh said, backtracking a bit. "But when they do, when the Democrats do, when the left does, then we respond, we react to it and we point out how they are wrong."
While one victim's father has been a vocal opponent of the NRA since the shooting occurred, the media has not made some unified rush to condemn the tea party and conservatives over what happened. But a short list of things members of the media have blamed over the last few days include Rodger's supposed "homosexual impulses," America's "corrupt college culture" and the films of Judd Apatow.
Listen to audio below, via The Rush Limbaugh Show:
[Photo via screengrab]
— —
>> Follow Matt Wilstein (@TheMattWilstein) on Twitter
Have a tip we should know? tips@mediaite.com