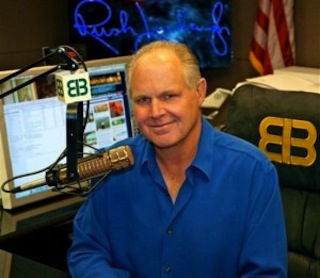 Somehow, the same week that Apple plans to announce their new fancy phoneputer, the biggest news story in the country is about that earliest of high-tech tools; a rock. Not just any rock, though. A racist rock.
At least, that's the claims in a Washington Post article that claimed a hunting camp used and leased by Rick Perry and his father went by the charming nickname "Niggerhead," as proven by a painted rock sign. However, while some see the destruction of the Perry campaign, Rush Limbaugh sees nothing but a full on setup by the Liberal media.
RELATED – Will Herman Cain's Reaction To 'N*ggerhead' Controversy Hurt Him With Conservative Base?
Noting that the article didn't feature any actual pictures of America's most famous racist rock, Limbaugh called the story an obvious smear "even by the Washington Post's standards." He went on to argue that the story only proved how desperate te Left is.
"This is all they've got to defend the One. They can't defend him, they can't defend his economy, they can't defend his policies, they can't defend him personally. Nope, they've got to run out and try to personally destroy Obama's potential opponents. We all knew this. It's just happening and it's happening early and is an indication of the weakness of the Democrat Party and their state-controlled media position."
Listen to the clip (which awesomely opens with music that makes it sound like Limbaugh is being scored to the Drive soundtrack) below:
Have a tip we should know? tips@mediaite.com