Rush Limbaugh Outraged Obama's Thanksgiving Declaration Thanks Native Americans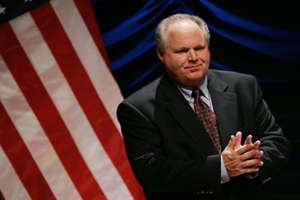 President Obama's "wildly distorted" version of Thanksgiving– where the pilgrims and Native Americans traded food and wealth during a cold winter– has greatly upset Rush Limbaugh. In fact, Limbaugh was so shocked the president would thank Native Americans for their "rich culture," he thought the White House's official Thanksgiving declaration was a hoax.
Compared to George Washington's 1789 declaration, Limbaugh argues, Obama's is practically sacrilege. Decrying "the myth of the first Thanksgiving," Limbaugh read an excerpt of the President's declaration, adding personal touches in places like "Native Americans' rich culture continues to add to our nation's heritage" (here he inserted "at their casinos and reservations." Then he repeated several variations of "this has got to be a parody" to himself incredulously as he mulled over the text, which he followed by interpreting President Obama's comments: "We were the invaders… we were incompetent idiots, we didn't know how to feed ourselves, so they came along and showed us how, and that's what Thanksgiving is all about."
Speaking with a caller, Limbaugh clarified what the real story of Thanksgiving is about: "the true story of Thanksgiving is how socialism failed," he tells the caller, noting that "the Indians didn't teach us capitalism" and "we shared our bounty with them… because we first failed as socialists." The caller, David, seemed thrilled with that explanation, but it sounds like the sort of thing American history scholars may have a bit of a problem with.
The audio from today's radio show below:
[h/t Breitbart.tv]
Have a tip we should know? tips@mediaite.com