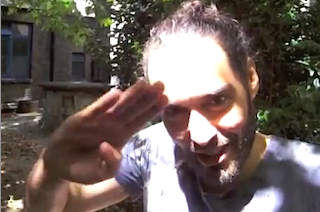 Last month, comedian Russell Brand called Fox News a "fanatical religious terrorist organization" that's "more dangerous than ISIS." In the weeks since, he has used his online video series "The Trews" to systematically break down everything he thinks is wrong with America's #1 cable news network, and particularly its biggest star Bill O'Reilly. And in a new video posted Monday, he compares O'Reilly and his fellow hosts to Nazis.
In the latest video, titled "Are Fox The New Nazis?", Brand answers his own question by showing O'Reilly's plan for the undocumented immigrants who are already in the United States. According to the Fox host, "All of them must register at their local post office within three months."
RELATED: Russell Brand Wants to Go on Bill O'Reilly's Show and 'Kiss Him So Hard'
"Bill has gone too far," Brand says in the video, looking over his shoulder. "This is the day when Bill starts using, literally, Nazi policies on Fox News. That's Kristallnacht stuff." Imitating O'Reilly, he said next he would advocate for marking the homes of Mexicans with the Star of David and smashing their windows.
When O'Reilly proposed that those who fail to register should go to "special prisons," Brand said, "He's moving dangerously close to concentration camps." He said that one could suggest a bunch of Nazi policies to O'Reilly and "as long as you didn't say the word Nazi, he'd go, 'That's brilliant!'"
You'll want to make sure to watch until the end of the video to see Brand give the "Sieg Heil" Nazi salute to Bill O'Reilly, officially moving the actor in troll du jour territory.
Watch video below, via YouTube:
[Photo via screengrab]
— —
>> Follow Matt Wilstein (@TheMattWilstein) on Twitter
Have a tip we should know? tips@mediaite.com