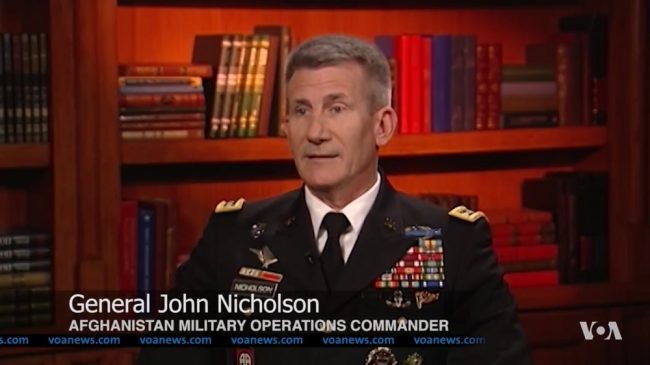 The top general in charge of U.S. forces in Afghanistan indicated, Monday that Russia was supplying the Taliban with military equipment.
The Washington Post spotlighted General John Nicholson's comments in a Monday write-up. The U.S. army general appeared with Defense Secretary Jim Mattis at a press conference, and was asked about the alleged Russian arming of the Islamist group.
"We continue to get reports of this assistance. We support anyone who wants to help us advance the reconciliation process, but anyone who arms belligerents…is not the best way forward to a peaceful reconciliation," Nicholson said.
Mattis also underlined that, "any weapons being funneled here from a foreign country would be a violation of international law unless they were coming to the government of Afghanistan."
The Post's article noted that this isn't the first time General Nicholson has targeted Russia over its reported connections with the Pashtun Islamist group. The newspaper also pointed out that earlier in 2017, General Curtis Scaparrotti, commander of the United States European Command, spotlighted Russia's possible supplying of the Taliban during testimony to Congress.
Russia's foreign minister, Sergei Lavrov, denied that his government was supplying the Taliban, according to a Tuesday report from Reuters.
Of course, Russia has also issued denials regarding its alleged involvement in the 2016 U.S. presidential race. Vladimir Putin brushed off the charge as "lies." Days later, a top American diplomatic official insisted that the interference took place.
[image via screengrab]
Have a tip we should know? [email protected]
---