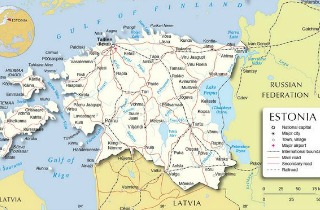 Prior to Russia's invasion and annexation of the Ukrainian peninsula of Crimea, Moscow cited its concern for how ethnic Russians living there were being treated by the Ukrainian government following the ouster of pro-Russian President Viktor Yanukoich. On Wednesday, Russia expressed its "concern" for the treatment of ethnic Russians in another former Soviet territory, the Baltic state of Estonia.

On Wednesday, Reuters quoted a Russian diplomat expressing concerns about the rights of Russian speakers to freely speak that language in Estonia, a chief concern Moscow cited as justification for the invasion of Ukrainian territory.
"Language should not be used to segregate and isolate groups," the diplomat told the United Nations Human Rights Council in Geneva. The diplomat added that Moscow was "concerned by steps taken in this regard in Estonia as well as in Ukraine."
RELATED: Shots Fired as Russian Forces Storm Ukrainian Military Bases in Crimea
Some independent analysts in the West have documented the verified mistreatment of ethnic Russians in the Baltic Republics. In Estonia, a country still bitter over its 50 year history as a Soviet Republic, ethnic Russians are often denied citizenship and are unable to vote in national elections even if they were born in that nation.
But while evidence of the mistreatment of ethnic Russians in Crimea has been difficult to come by, the mistreatment of non-Russian Crimean residents has been surfacing.
Reports are emerging from occupied Crimea that ethnic Tartars in that region have been "asked" to vacate the homes they presently occupy. The body of one Crimean Tartar was recently discovered after he was tortured and murdered, leading to a series of demonstrations by the region's increasingly nervous Tartar minority.
[Photo via Nations Online Project]
— —
> >Follow Noah Rothman (@NoahCRothman) on Twitter
Have a tip we should know? tips@mediaite.com