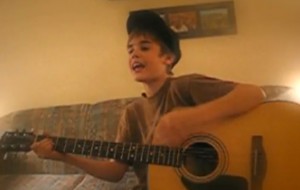 The buzzword of Tuesday wasn't a word at all — it was a collection of numbers and punctuation marks; more specifically: "s.978." The measure, which is expected to be brought to Congress today, essentially extends charges for bootlegging DVDs and music albums into the 21st century, making it a felony to illegally stream copywritten material. The bill was introduced by Minnesota Senator Amy Klobuchar, who took some unnecessary lumps by the pro-Bieber crowd, as the bill was fully misinterpreted and brought to new heights of irrationality by the people behind FreeBieber.com. The site caused a minor panic by starting a petition to thwart s.978, saying that Justin Bieber, who rose to fame covering songs on YouTube, could be sent to jail for five years under the bill. CBS News didn't help things by jumping on the bandwagon.
Simply put, Bieber is safe. Unless he starts a website that charges $10 for people to stream digital copies of films, TV shows, or live sporting events that he hasn't been given permission to stream, he will remain free. The only way the teen pop star is getting arrested under s.978 (assuming it passes) is if he opens a site — we'll call it Biebster — and just begins streaming movies like Paranormal Activity 3 without the permission of Paramount on that site.
The YouTube fears — that Bieber will have to pull down all his early cover songs or be thrown in jail — are also unfounded. Even if Bieber uploads 50 videos of him covering copywritten songs each day, he is only the uploader, not the streamer. That action, however questionable, is covered under a different law. YouTube, as the streamer, has a responsibility to take the content down (which it has been very good at doing), or else they will be hit with the penalty. s.978 goes after nefarious YouTube clones who illegally stream copywritten material, not after Canadian teenagers with floppy hair and angelic voices. And it does so with a felony charge, as opposed to the misdemeanor that it had been carrying before.
So Bieber is safe, for now, unless he gets into some very un-Bieber-like behavior. With that all being settled, please enjoy — legally — some of they early Bieber magic from his YouTube channel, below:
Have a tip we should know? tips@mediaite.com