Rick Perry Flip-Flops On President Obama's Birth Certificate, Now Has 'No Doubt' He's A US Citizen
Rick Perry Flip-Flops On Obama's Birth Certificate, Now Has 'No Doubt' He's A US Citizen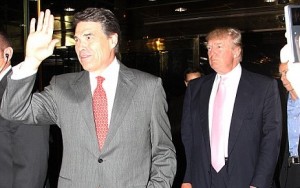 After resurrecting the long-dormant "Birther" conspiracy about President Obama's birth certificate in an interview with Parade Magazine, Texas Gov. Rick Perry doubled and tripled-down on the issue this week. Now, though, The St. Petersburg Times is reporting that Perry now says he has "no doubt" that President Obama was born in the United States, and that he was "kidding around" when he raised the issue several times this week. Has his flirtation with the Birthers, and Donald Trump, rendered his candidacy a joke?

According to the St. Pete Times, Perry made the remarks earlier today, in an interview to be broadcast Sunday:
Texas governor Rick Perry clarified Wednesday that he has no doubt that Barack Obama was born in the U.S., saying that he was only kidding around when he voiced doubts in a TV interview earlier this week.

Perry made the comments in an exclusive Political Connections interview to air Sunday on Bay News 9. He was at the Tradewinds Island Grand resort in St. Pete Beach for a $1,000-per person breakfast fundraiser that drew about 50 people.
Perry's reversal follows the Parade interview in which he spoke about having dinner with Donald Trump, who apparently convinced him that the birth certificate that the President produced in April was a forgery. In several later appearances, Perry refused to put the issue to rest, saying it was "fun" to "poke" the President about his birth certificate. He also complained to a CNN reporter about the "distraction" the birther issue (that Perry resurrected) creates.
It seems Perry is done with this "distraction," but is it done with him? He might lose the all-important Orly Taitz/Donald Trump vote (Perry still hopes to secure Trump's endorsement), and he has awakened the sleeping Trump giant, who's now, once again, spewing birther crazy to anyone who will listen. Perry might think he was being funny or cute, but having weathered the controversy over his family's "N*ggerhead" hunting lodge, and with a touchy vote on Confederate flag license plates upcoming in Texas, Perry's decision to joke about a conspiracy movement that many see as racially motivated is a curious choice. It might cost him a few primary voters, but it will almost certainly hurt him should he make it to a general election.
Have a tip we should know? tips@mediaite.com