S.E. Cupp: Conservatives Need to 'Get Serious' About 2016 and Ignore Ben Carson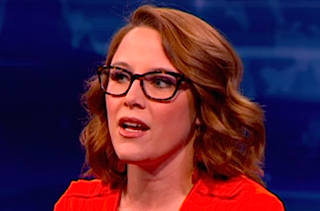 In her first nationally syndicated column, CNN contributor and conservative commentator S.E. Cupp urged Republicans to "get serious" about who they choose as their nominee in the 2016 presidential race. According to Cupp, there is one potential candidate who makes her question whether party's core members "actually want to win the White House ever again": Dr. Ben Carson.
Cupp argued that conservatives who support Carson ignore a major critique they had of then-Sen. Barack Obama when he was running for president in 2008 — that he had little relevant experience in politics.
She also went after Carson for being too mushy on guns, saying 5 million NRA members want him to "stop right there" with his claim that people in cities probably don't need semi-automatic weapons, and based on recent comments about Israeli politics, his knowledge in that area is too "shallow." Cupp also mentioned how the retired neurosurgeon seemed to defend Ray Rice, and compare America to Nazi Germany.
She lamented "dumb stuff" that has come from Carson, including his assertion that being gay is "absolutely" a choice.
And despite these seemingly damning aspects of a potential Carson candidacy, Cupp argues, he still ranks high in national conservative polls and is raising a lot of money. Conservatives "went wild," she wrote, when Carson pulled a "stunt" at the national prayer breakfast and openly defied President Obama.
"But instead of using his newfound fame to, I don't know, raise money to cure pediatric cancer or even help draft better healthcare legislation, Carson decided he might like to be the next leader of the free world," she declared. "And why not? He is a neurosurgeon, after all."
Carson, whose syndicated column was recently dropped because of his presidential ambitions, was also recently dismissed as a potential candidate by Rupert Murdoch, who called him a "political naif."
"Carson's hardly the only smart guy who thought he could solve complex social problems without really thinking hard about them," Cupp continued, saying her fellow conservatives seem to not care that he's neither politically experienced nor ideologically sound enough. "Is it really enough that he's a black doctor who stuck it to the president? If so, that's pretty sad."
She concluded:
His popularity is particularly vexing considering we have actual contenders – good candidates with real experience who don't think they should be president just 'cuz. Ben Carson's arrogance and ignorance are dangerous, and conservatives should be offended, not aroused, by his cavalier attitude toward the political problems that affect our daily lives.

So let's get serious, guys. We're better than this.
Read the full column HERE.
[Image via Comedy Central/screengrab]
— —
>>Follow Andrew Desiderio (@forza_desiderio) on Twitter
Have a tip we should know? tips@mediaite.com