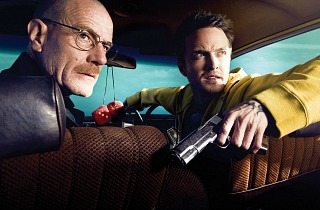 That's right. Though this headline is far clearer than Salon's lengthy post, republished from the blog The New Inquiry, making this case. In fact, Malcolm Harris could have saved himself nearly 1,700 words in the effort to paint AMC's Breaking Bad as racist if he had just burst out of the gate with less subtly and more white-hot passionate outrage. Oops. Now, having used the word "white" to modify the word "hot," Salon readers have license to dismiss this post as the ravings of a culturally unsophisticated brute – or worse – and continue to saturate themselves in progressive like-think.

Yes, it turns out that the genre-bending and strikingly compelling AMC drama is racist. Why? Because Walter White's talent for making methamphetamine suggests that white people have an advantage when making drugs that African-Americans and other minorities do not enjoy. In this way, Harris notes, Breaking Bad appeals to America's latent sense of white supremacy.
At least, that is my attempt to decipher the cryptology that characterizes the insular, self-affirming doctrinism that energizes those who fancy themselves society's racial police.
After a number of dispensable opening paragraphs, Harris gets to the meat of his thesis: the characters in Breaking Bad appeal to a mass market, not because White is churning out street drugs, but because his products are essentially "black-market pharmaceuticals" of a higher grade.
"Which brings us to the other thing that sets White and Pinkman apart from their competitors: color," Harris continues. "And I don't mean blue."
"The white guy who enters a world supposedly beneath him where he doesn't belong yet nonetheless triumphs over the inhabitants is older than talkies," he continues. "The story changes a bit from telling to telling, but the meaning is consistent: a white person is (and by extension, white people are) best at everything."
The U.S. is still very much a white supremacist country, but classic cowboys-kill-Indians narratives don't play with wealthy viewers or the critics who help determine those tastes. And Jack Bauer can drive only so many cars. For the credulous viewer who likes to imagine he's a couple of life crises from being the Larry Bird of meth — and for the people who sell him stuff — White is right.
There are precious few words which can accurately describe the inanity contained within this piece. Harris has established himself, as Ace put it, as a true "connoisseur" of racism — able to detect the subtle notes and hints of a delicate texture imperceptible to the layperson. That is, of course, a hubristic mirage with the transparent design of reinforcing his belief in his own powers of perception and discernment. But, like the misguided masses who enjoy Breaking Bad, there is an audience for this kind of thing.
That is not to say that Harris did not perform a service for readers with this post. Those of us who read it this morning had a hearty laugh at the asininity of the premise and the fallacious logic he appealed to in order to support it.
h/t Salon
[Photo via AMC]
— —
> >Follow Noah Rothman (@NoahCRothman) on Twitter
Have a tip we should know? tips@mediaite.com