Sam Donaldson 'Resents' Tucker Carlson Comparing Him To Daily Caller Obama Heckler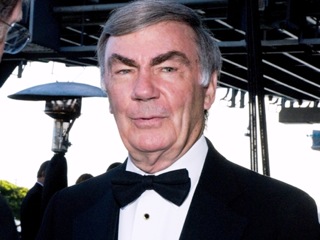 After Daily Caller reporter Neil Munro found it fit to interrupt the President's statements on immigration yesterday, his boss Tucker Carlson defended him by comparing his actions to the way Sam Donaldson "heckled" President Reagan. Donaldson responded to the comment in the Huffington Post, remarking that the comparison "lowers my opinion of Tucker."

RELATED: The Daily Caller Brass Responds To White House Heckling Controversy: 'We're Proud Of Neil Munro'
In a statement where he said he was "proud" of Munro, Carlson stated, "I don't remember Diane Sawyer scolding her colleague Sam Donaldson for heckling President Reagan, and she shouldn't have. A reporter's job is to ask questions and get answers." Donaldson responded today with some surprise that he had been mentioned since what Munro did, he argued, was "wrong and unusual," and "probably the result of growing incivility of the times, the competition among reporters and news organizations to be noticed not only for the work product but for the theatrics of the gathering." He also explained how his behavior was different:
Never once did I interrupt a president in any way while he was making a formal statement, a speech, honoring awardees or in any other way holding the floor. Yes, almost always when he was finished in the Rose Garden or in the Briefing Room or at a photo opportunity with other world leaders I tried to question him (only rarely was it a shout on the rope line, more often a more normal tone of voice) and other reporters of course did the same thing along with me.
Donaldson concluded that he "resents" the comparison, and "for Tucker Carlson to say that he would if he can give this man a raise for this rude attempt to interrupt the president is reflective of what I've said above and, to me, lowers my opinion of Tucker," though with the disclaimer that "I like Tucker (let all flowers bloom)."
You can read Donaldson's full response here.
—–
» Follow Frances Martel on Twitter
Have a tip we should know? tips@mediaite.com