Sanders Calls Planned Parenthood 'The Political Establishment,' Gets Piled On by the Left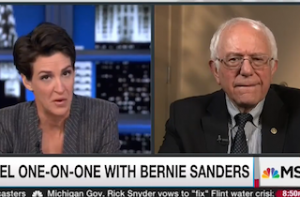 Last night, presidential candidate Bernie Sanders appeared on The Rachel Maddow Show to discuss his campaign, his interest in doing more debates, and his reaction to his primary opponent, Hillary Clinton, being endorsed by high-profile progressive groups. Chief among those groups is Planned Parenthood, whose endorsement of Clinton has generated a lot of attention from media and politicians on both sides of the party line.
When Rachel Maddow pressed him, Sanders said he was proud of his campaign's endorsements from organizations like MoveOn.org and Democracy for America and also mentioned that he would love to accrue more from other progressive groups, but that it is important to remember that these groups themselves can be part of the establishment he is working to fight.
He said, "We're taking on the political establishment … and some of these groups are part of the establishment."
It didn't take long for Clinton's supporters to jump on Sanders, led by the organization in question and the candidate herself.
Really Senator Sanders? How can you say that groups like @PPact and @HRC are part of the "establishment" you're taking on? -H

— Hillary Clinton (@HillaryClinton) January 20, 2016
We respect @SenSanders. Disappointed to be called "establishment" as we fight like hell to protect women's health. https://t.co/kiimTsVw2x

— Planned Parenthood (@PPact) January 20, 2016
Wow – who knew advocating for women's repro rights against an avalanche of right wing attacks makes you part of the establishment?

— Neera Tanden (@neeratanden) January 20, 2016
Ugh. Planned Parenthood isn't "the establishment" & it's crude & dishonest for Sanders to call them that for endorsing HRC.

— emily nussbaum (@emilynussbaum) January 20, 2016
@PPact I'm with you. @SenSanders obviously has no respect for your work or the people you serve.

— Grace Laine (@TAW3333) January 20, 2016
According to sources within a campaign event today, Bill Clinton also got in on the defense without calling Sanders out by name:
Bill Clinton knocking Bernie Sanders: "Hillary does not consider Planned Parenthood a member of the establishment…"

— David Knowles (@writerknowles) January 20, 2016
A few hours before appearing on Maddow, Sanders tweeted a pro-choice message that he deleted following the backlash against his Planned Parenthood remarks. It was preserved and disseminated through screenshots.
(for the record) pic.twitter.com/pfc2T8mZJ0

— Lauren Peterson (@lcollinsp) January 20, 2016
Sanders's record clearly shows that he is liberal when it comes to social justice issues like LGBTQ+ equality and reproductive rights, but that he is also anti-establishment when it comes to organizations he does not deem "grassroots." He did not claim to be pro-life, only anti-establishment, which has long been his platform.
Clinton's camp coming down on him for his remarks comes on the heels of arguments between the two candidates regarding healthcare and attacks against Sanders coming from Clinton's campaigners, including her daughter.
[image via screengrab]
For more from Lindsey, follow her on Twitter.
Have a tip we should know? tips@mediaite.com