Sanjay's Surgical Precision: Gupta's Sebelius Exclusive Subtly Devastating to Interviewee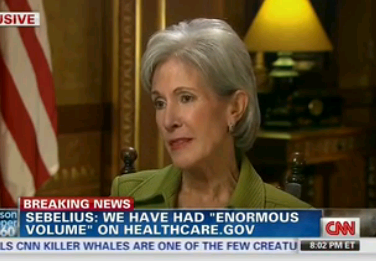 This was supposed to be the second step on the road to repairing the running joke that some call the Obamacare launch. Kathleen Sebelius, the Health and Human Services Secretary that most in conservative circles say should be canned, sitting down with Sanjay Gupta, CNN's Chief Medical Correspondent, in what (at first glance) could have been seen as a friendly environment for the interviewee.
After all, this wasn't a potentially uncomfortable visit to the No-Spin Zone on Fox.
Nor was it a creampuff conversation with MSNBC's Chris Matthews, who instructed his guests on Monday to "stay positive" before going into any analysis of the Affordable Care Act's performance. Any interview on the Lean Forward Network simply wouldn't be taken seriously (unless conducted by Ezra Klein).
This was CNN, a network as close to the middle of the road as it gets in the polarized world of cable news.
The White House PR team—reeling like it never has before due to the complete-ownership aspect of Obamacare—felt it needed to control the narrative again. So to help set the tone for Sebelius, it sent out its greatest oratory asset—the President himself–on Monday afternoon for a speech from the Rose Garden.
This was Marketing 101: Control the optics, control the message.
But from MSNBC to FOX, the speech was widely panned. Without Republicans and the Tea Party to blame, and without anything resembling good news to share about the putrid performance of healthcare.gov (like, you know, exactly how many people have actually signed up or when the myriad technical issues would be fixed), the Sham-Wow President only succeeded in assuring this story would be THE story until something better (or worse) came along to unseat it. If the President could have rescheduled that trip to Asia he postponed in favor of staying home during the partial government shutdown, this would have been the week to do it.
Obviously, a Sebelius speech would be pointless, so the Administration chose Gupta for some Q&A instead. If you recall, Gupta was approached by then-President-Elect Obama to be the country's next Surgeon General back in 2008 (which he respectfully declined). With that in mind, perhaps he would give Sebelius a forgiving platform to allow Sebelius to turn things around on the PR front.
It didn't turn out that way. Not even close.
That's not to say Gupta suddenly became like so many in the industry: A tough guy with a microphone trying to draw attention to himself. But that's what made this interview so quietly devastating to Sebelius.
Instead, Gupta came across, like…well, a doctor, an average citizen, just asking basic questions that anyone would ask if given 30 minutes with the person charged with ensuring Obamacare worked as it should. It was this easy, non-confrontational, genuine conversation that seemed to lull Sebelius into offering up answers that illustrated just how mismanaged, how disconnected internally and externally the Obamacare debut was.
Yikes Moment #1: Gupta asked when the President first learned about the substantial challenges facing healthcare.gov, citing reports that it had failed during the testing stage prior to launch. Sebelius replied the President only learned of these issues "in the first couple of days" after the site launched October 1st.
Gupta: "But not before that?"
Sebelius: "No, sir."
Good thing the White House is equipped with TVs, or else the President wouldn't be aware of very much going on at all. If you recall, the same "I had no idea" excuse was peddled during the IRS scandal as well.
Yikes Moment #2: When asked by Gupta why the site launch wasn't pushed back until it was fully tested (and therefore ready), Sebelius awkwardly explained, "There are people in this country who have waited for decades for affordable health coverage for themselves and their families. So waiting is not really an option."
Come again? Actually, waiting was completely an option. Measure twice, cut once, as they say. Instead, whoever is in charge (that's no longer clear) decided to introduce a broken product to millions of potential buyers that wasn't ready despite a paltry 3 1/2 years of preparation (Sebelius also mentioned a preference to having five years to test it out). But what's 18 months in the whole scheme of things, right? And in the process, according to the New York Times Ross Douthat, by moving too fast and too soon, the decision could potentially bankrupt the health insurance industry, throwing millions more out of the coverage pool in the process.
Yikes Moment #3: In attempting to quell fears that healthcare.gov won't be fixed anytime soon, Sebelius assured Gupta that an "A-Team" of IT gurus are being flown in to fix the site.
Gupta: "Why didn't they bring their A-Team in in the first place? Why are we saying three weeks now, 'Bring your A-Team into this whole equation?'"
Sebelius: "We want new eyes and ears. We want to make sure that we get all the questions on the table, that we get all the answers and accelerator the fix as quickly as possible."
Gupta follows up by asking approximately when the site will be good to go. But Sebelius–staying with theme–punts on any specifics. She also wouldn't answer the biggest question around how many people have signed up to this point.
The reason, of course, is because the number is likely so astonishingly low, it's too embarrassing to even mention publicly. It's clear Team Obamacare is now buying as much time as possible and praying the number gets considerably higher…because reports say it's not even remotely close to the seven million it needs to be sustainable.
In the end, the winner here was Gupta…
…Who showed you don't have to make yourself the epicenter, don't have to pick a side beforehand…don't have to try win an argument when conducting a compelling, and ultimately (at least to the subject) career-ending interview.
— —
Follow Joe Concha on Twitter @ConchSports
Have a tip we should know? tips@mediaite.com