Sarah Palin Outraged At Associated Press Treatment Of Haiti Visit: 'Takes the Cake' – Updated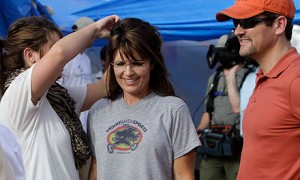 Former Alaska Governor Sarah Palin visited cholera-ravaged Haiti this weekend, accompanying a delegation from Franklin Graham's Samaritan's Purse charity, and accompanied by Fox News anchor Greta Van Susteren. While there has definitely been some less-than-gracious sniping about Palin's visit, it was the caption from this Associated Press photo, linked to a Free Republic blog, that prompted Palin to tweet "This takes the cake. Really?"
The caption says Palin "has her hair done" during the visit, but another photo reveals that the alleged "hairdresser" was actually Bristol Palin. However, while Palin may have a point about the coverage surrounding her trip, I think she's off-base about the photo.

AP writers took pains to point out that Palin's visit was "tightly stage-managed," and that she "avoid(ed) crowds and the press," and that she was accompanied by Fox News' Greta Van Susteren. Given that they had little access to Palin, there wasn't much else for them to report, but Palin could certainly be forgiven for taking exception to the "stage-managed" characterization.
The AP also reported that, while Palin didn't take any questions at a press conference, she did create "confusion."
At the news conference, Palin created some confusion when she referred to a potential drawdown of U.S. assistance to Haiti.

"I know that there's been some discussion of U.S. aid perhaps being lifted from this area," she said. "Again – not to get political – but if some of the politicians would come here and see the conditions, perhaps they would see a need for, say, a military airlift to come bring supplies that are so needed here."

It was not clear what she was referring to, and a Palin spokeswoman declined to elaborate.
This could be seen as something of a "gotcha," I suppose, since Palin's main point here seems to be that those in power should see the situation firsthand before making (possibly hypothetical) judgments. She seems to be trying to convey how deeply the visit has affected her.
Time MagazineOnline focused on how quick Palin's trip was, and led with the fact that she had a Fox News crew with her. The unsubtle suggestion is that Palin is opportunistically exploiting the Haiti tragedy to get some good press.
It seems to me that there are plenty of good reasons to criticize Sarah Palin, but I fail to see how her visit to Haiti falls into that category. She appears to be trying to do something good, and if you can't bring yourself to commend her for it, you certainly shouldn't crap on her for it. Even if all she does is get a few more dollars flowing down to Haiti, that's more than most of us can do. If you don't like Franklin Graham (who became a somewhat controversial figure in the "debate" over President Obama's religion), and you can't see past it to donate to his charity, then find one you do like.
As for Palin's outrage over the photo, though, I think she picked the wrong battle to fight here. The caption should, indeed, be corrected, but I seriously doubt the error was deliberate. For one thing, I've hung out with a lot of news photographers, and they are as apolitical a bunch as you'd ever find. Shockingly so. The photographer in this case, Chery Dieu-Nalio, is a native Haitian, and probably a freelancer. There's an excellent chance he didn't recognize Bristol Palin, or that the photo was captioned by someone else who neglected to cross-reference the other photos to determine that it was Bristol.
Be that as it may, there is still plenty of judgment to go around, and it's not pretty. Give her a chance to do some good.
Samaritan's Purse posted the following video of Palin's Haiti visit:
Update: According to a source with firsthand knowledge of Palin's Haiti visit, the "Fox News Crew" referenced  in this AP story actually consisted of one member of Greta Van Susteren's staff, producer Justin Wells.
Have a tip we should know? tips@mediaite.com