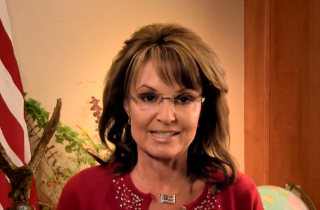 Sarah Palin's PAC is extremely stingy when it comes to donating money to her fellow Republicans: a report from Open Secrets reveals that since the 2014 two-year election cycle began, her PAC has raised a total of $2.7 million dollars, but only donated $150,000 of that money to actual candidates, a donation rate of 5.5%.
This year was even worse: according to SarahPAC's third quarter filings this year, they had $1.4 million cash in hand, but only donated $45,000 to nine Congressional candidates — about 3% — between July 1st and September 30th. What did they spend the rest on?
Many of the same consultants she has used all along — for speechwriting, fundraising, logistics and research. There's even someone paid to consult on "coalitions." Travel, presumably for Palin, is part of the equation; a PAC like this is useful for keeping a high profile nationally without having to pay those pesky airline and hotel tabs out of personal funds. And the PAC sent $10,885 to HarperCollins — publisher of all three of Palin's books — for "books for donor fulfillment." That wasn't the only book purchase by the committee: A lump sum of $13,000 was listed as being spent for "lodging, SUV rental, books for donors."
According to OpenSecrets, Palin's PAC is notoriously "parsimonious," noting that "of the 417 leadership PACs that made at least one contribution in that cycle, SarahPAC was one of only 19 to give less than 10 percent of its total expenditures to candidates, other PACs or party committees."
They also note that many of the candidates she's donated to in this quarter are either extremely long shots or no longer in the running. For instance, she donated $5,000 to Joe Miller, a Tea Party candidate who attempted to run for the US Senate seat held by Democrat Mark Begich. "Miller lost to Dan Sullivan in the GOP primary, but Palin has not seen fit to donate to the Republican nominee, who is locked in nearly a dead heat with Begich," Open Secrets observed, and added that Palin herself has only donated $628 to a federal candidate in her entire life.
SarahPAC has yet to publicly comment on the story.
[h/t The Daily Caller]
[Image via Palin Channel/Screenshot]
—
>> Follow Tina Nguyen (@Tina_Nguyen) on Twitter
Have a tip we should know? tips@mediaite.com