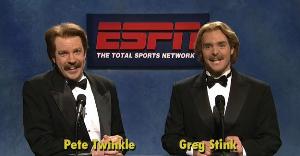 Saturday Night Live's sports special, SNL Presents: Sports All-Stars, airs Sunday at 9pm, and will be hosted by two of the newest recurring SNL sports-related characters: Pete Twinkle and Greg Stink.
The cast members behind Twinkle and Stink, Jason Sudeikis and Will Forte, talked to reporters on a conference call earlier this week about the show.
The mock ESPN Classic anchor team consists of Twinkle, the play-by-play announcer who slips in frequent references to inappropriate sponsors of the program, and Stink, the color analyst who has no clue what the sport he's covering is about.
Sudeikis and Forte are joined by SNL writers John Lutz and John Solomon when putting the sketch together. "The writing, while it takes a little time, is effortless and we laugh a little while we write it," said Sudeikis about the process. "You'll see that quite largely on this Sunday. We had a really good time."
"For some reason, Jason and I didn't really write together until a couple years ago," said Forte. "Once we started writing stuff together, I just had so much fun doing stuff with him."
"I think Lorne was just trying to pit us against each other," joked Sudeikis, referring to SNL creator and executive producer Lorne Michaels.
SNL has a history of sports sketches as well as sports stars as guest hosts, from Charles Barkley earlier this month to some fantastic performances by Peyton Manning and LeBron James recently.
Check out the most recent "Twinkle and Stink" ESPN Classic sketch, and below, some Weekend Update sports jokes:


A preview of Sunday's show:


—–
» Follow Steve Krakauer on Twitter
Have a tip we should know? [email protected]