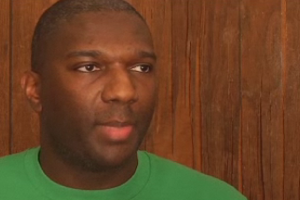 The murky Alvin Greene plot in South Carolina thickens. Remember two days ago when some in the media were panicking that the American-dream-gone-wrong that is Orly Taitz would become an official Republican Party candidate? That actually happened, except it happened to the Democrats, with Alvin Greene. Greene, an unemployed Air Force veteran with no known ties to politics, is now the official Democratic Senate candidate in his state after winning 59% of the vote in the state's primary. He will be facing incumbent Senator Jim DeMint in November. Now that it's time for him to meet the press, he's having trouble answering hardball questions like "What kind of campaigning did you do?"
Talking Points Memo has uncovered a couple of interviews with Greene since the election, both of which seem to have more of an MTV Cribs air to them than an interview with a major party's Senate candidate. In this interview with ABC News, Greene asserts several times that his victory with 59% of the vote against someone with a political career "is not luck. If it was 51%, then maybe it would be luck. But 60% of the vote is no accident." He then declines to answer any questions about his felony charge (he is charged with showing a University of South Carolina student "obscene photos"), and shows the interviewer his baby picture in lieu of a photo that would prove he was actually in the military (ABC News reports he was "involuntarily forced out… because 'things just weren't working… it was hard to say.'"):



Ok, so let's take him at his word: his victory isn't luck. In this interview– apparently taped on the same day– with local NBC affiliate WCSC, Greene is asked to back up that claim. If it wasn't luck, then what was it– "how did you campaign?" His answer involved mostly shuffling his feet, asking if he could end the interview, and, later, "we campaigned all across the state." While his platform is about as murky as how he became a major party candidate in the first place, he clarifies here that his priorities are "jobs, education, and… justice." And, um, offshore drilling.



The Democrats have now asked Greene to step aside, with some in the party suggesting he is a Republican "plant" (and if he's not, then what is the matter with S.C.?) Greene has stood his ground and claims he thinks he's got what it takes to dethrone DeMint, but he's going to need a gigantic, out-of-nowhere, Marco Rubio-sized push to get him there, complete with several extensive, nationally-televised interviews that happen to go well and a lot more money than the $10,000 or so that he somehow managed to pony up for the primary. And it doesn't seem his barely-there platform is inspiring anyone to back him– anti-incumbency fever can only get you so far.
Have a tip we should know? tips@mediaite.com