Scarborough: Picking Giuliani for Secretary of State Would be 'Disastrous' for Trump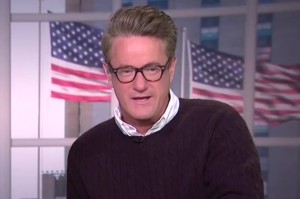 MSNBC's Joe Scarborough is taking things up a notch by putting out all of the reasons why President-elect Donald Trump shouldn't pick Rudy Giuliani as his Secretary of State.
Over the last several days, the Morning Joe host expressed how he's not impressed with the idea that the former New York mayor could become America's top diplomat. Scarborough said it was "unbecoming" of Giuliani to show how desperate he was for the job, and Scarborough also disapproved of how Giuliani seemed complicit in efforts to publicly pressure Trump into not choosing himself over Mitt Romney.
On Saturday, Scarborough released a series of tweets to explain why Giuliani could head Homeland Security, but would be a "disastrous" Secretary of State. Of note is the fact that Scarborough was concerned that Trump would give Giuliani the job in return for the "patronage" he offered throughout the 2016 election:
Rudy Giuliani as Donald Trump's SecState would be a disastrous pick. He is neither qualified nor capable of effectively holding the position

— Joe Scarborough (@JoeNBC) December 4, 2016
Giuliani could effectively serve as Secretary DHS or another position. But SecState is not a patronage job. The search should continue.

— Joe Scarborough (@JoeNBC) December 4, 2016
Selecting Rudy Giuliani as SecState would overshadow any selections Donald Trump has made. After this week, that is especially true.

— Joe Scarborough (@JoeNBC) December 4, 2016
No. I said Giuliani could effectively serve at DHS. He's qualified. But he is dreadfully unprepared to be America's SecState. https://t.co/4HXrt5vlau

— Joe Scarborough (@JoeNBC) December 4, 2016
Trump has narrowed his choice for the State Department down to four people. Aside from Giuliani and Romney, former ambassador John Bolton, former general David Petraeus, and Senator Bob Corker are among the reported names that Trump might still be considering.
[Image via screengrab]
— —
>> Follow Ken Meyer (@KenMeyer91) on Twitter
Have a tip we should know? tips@mediaite.com