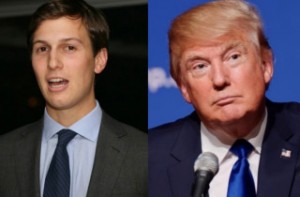 At least the New York Observer's fawning editorial endorsing Donald Trump comes right out and addresses the paper's connection to the frontrunner in the opening sentence:
Donald Trump is the father-in-law of the Observer's publisher. That is not a reason to endorse him. Giving millions of disillusioned Americans a renewed sense of purpose and opportunity is.
The glowing endorsement praises Trump for a campaign that emphasizes "optimism," a "compelling narrative," "faith and leadership."
The editorial points to Trump's 30-year-old accomplishment of refurbishing a skating rink in Central Park, while dismissing his failed business ventures in the intervening decades, by saying simply:
Having tried (and sometimes failed) at our own entrepreneurial ventures, we are far more inclined to put these ventures into perspective.
In assessing Sen. Ted Cruz's merits, the editors claim that he "may be the most disliked person ever to sit in the United States Senate," but fail to mention that Cruz's unfavorables, while high, are lower than Trump's, according to recent AP poll.
The editors also note that they are "still wondering if [Cruz's] 'New York values' comment was a veiled embrace of anti-Semitism," while neglecting to breathe a word about Trump's far less "veiled" racially-tinged and anti-Muslim comments.
After making a number of comparisons to Ronald Reagan, the editorial concludes:
In 1980 Ronald Reagan said, "The time is now for strong leadership," and by 1984 was able to declare, "It is morning again in America." Today, Donald Trump says it is time to make America great again. We agree.
The paper was purchased in 2006 by Jared Kushner, who is married to Trump's daughter Ivanka Trump. The New York Times reported last week that Trump had received assistance from the Observer's editor Ken Kurson and Kushner in crafting his AIPAC speech.
The Times report noted further:
Mr. Kurson's ties to Mr. Trump predate his job at the Observer. In 2011, when Mr. Kurson was executive vice president of the political consulting firm Jamestown Associates, he and a colleague, Larry Weitzner, wrote drafts of potential ads for Mr. Trump, who was then flirting with a presidential campaign in 2012.
The Observer's political editor Jillian Jorgensen issued a statement at the time, saying in part:
In the interest of covering the race as fairly as possible despite the unavoidable conflict of interest created by our ownership – a conflict we disclose on each story about Mr. Trump – and in response to concerns raised by staffers at the paper, Observer writers will now be able to cover Mr. Trump in the same way they cover every other candidate in the presidential race.
[images via Wikicommons]
Have a tip we should know? tips@mediaite.com