Scott Brown Responds to 'Totally False' Groping Accusations in Tantaros-Fox Harassment Lawsuit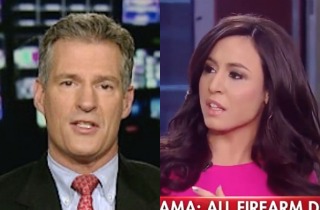 Former Massachusetts Senator Scott Brown is firing back at Andrea Tantaros over her claims that he touched her and said sexually-suggestive things to her while she worked at Fox News.
Amid the fallout from the ouster of former CEO Roger Ailes, Tantaros has broken her silence about her old network by claiming she was also a victim of sexual harassment. On Monday, the former Outnumbered host described the office culture as a "sex-fueled, Playboy Mansion-like cult," and said she's naming Ailes, his replacement Bill Shine, and several prominent figures and higher-ups as part of her lawsuit against Fox.
Tantaros also named Brown, an occasional Fox guest, as one of those who treated her inappropriately during her tenure. Politico's Hadas Gold caught up with Brown and got this response to the allegations:
Scott Brown responds to allegations in Andrea Tantaros lawsuit, w/ @kelseymsutton https://t.co/KjCWrDYEmk pic.twitter.com/JNjzCOywHC

— Hadas Gold (@Hadas_Gold) August 23, 2016
"Completely and totally false. Firstly, I don't go to clubs. Secondly, I had little, if any cotact [sic] with Ms Tantaros and always treated her and every employee at Fox with professionalism. I was unaware of this matter. Thank you for bringing it up to me."
In Tantaros' lawsuit, she alleges that Brown's actions include approaching her "in a suggestive manner," and saying she "'would be fun to go to a nightclub with.'" Tantaros also alleged that while buying lunch after taping a show, Brown came up behind her and "put his hands on her lower waist." Tantaros says that she recoiled and told Brown to stop, and that she asked Shine to never have him on Outnumbered again. The lawsuit states that Shine ignored Tantaros' complaints and eventually booked Brown again as the show's #OneLuckyGuy.
UPDATE: 12:35 p.m. ET: Brown expanded on his earlier comments by putting out this more-extensive statement:
Sen. Scott Brown to me: If I am asked to make a witness statement of some sort, I look forward to that opportunity pic.twitter.com/Owp3u9xhXj

— Kyle Blaine (@kyletblaine) August 23, 2016
UPDATE: 3:10 p.m. ET: Scott offered a first-hand rebuttal to Tantaros on Twitter:
As a survivor of sexual abuse, I would never perpetuate language or actions as described in FOX complaint. Actions referenced are fabricated

— Scott P. Brown (@SenScottBrown) August 23, 2016
Brown has opened up before about his abuse as a child, having said that he was fondled by a summer camp counselor and experienced beatings at the hands of step-fathers.
[Image via screengrab]
— —
>> Follow Ken Meyer (@KenMeyer91) on Twitter
Have a tip we should know? tips@mediaite.com