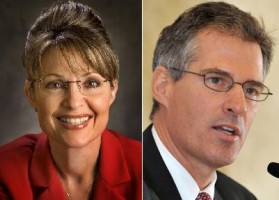 When Scott Brown was elected as Massachusetts' replacement senator in January, most political pundits agreed that it was a clear sign of the power of the new Tea Party movement, or more specifically, the anger that fueled it. But now that the Tea Party movement is beginning to get commodified – by both opinion media and political aspirants – Brown is turning away, evidenced by his eschewing of an invitation to join Sarah Palin later this week at a massive rally on Boston Common, reports the Boston Herald.
That's right – Sarah Palin and the Tea Party movement are planning a huge rally in the Boston Commons for Wednesday of this week. To use the new buzzword for television punditry, the "optics" will be outstanding, sure to get tons of national media attention. Perfect for any candidate seeking re-election, right? Right. Which is why Scott Brown's decision to bag the event is so interesting.
Writing for the Boston Herald, Edward Mason reports:
Brown's decision to skip the first big rally in Boston by the group whose members are credited with helping him win election has some experts saying he's tossed the Tea Party overboard, as he prepares for re-election in 2012.

"He wants to mainstream himself before the election," said Larry Sabato, a University of Virginia political scientist.

Brown, who took heat for the alleged misbehavior of some of his supporters at campaign events, may be trying to distance himself from what could be a volatile event, said political analyst Lou DiNatale.

"You're worried at a rally that there's a sign, a statement, an incident that's certifiably cuckoo occurs," DiNatale said.
One could argue that Senator Brown's surprising election was not a true example of the Tea Party movement's new found voice and power, particularly because the traditionally left-of-center Massachusetts is unlike most other states in the union. And in truth, this is not the first Tea Party event that Brown has declined attending.
But rarely does a up-and-comer have the opportunity to share the same political stage with someone as big, exciting – and yes, controversial – as Sarah Palin. This somewhat crystallizes his strategy to get re-elected: play to the more moderate middle and avoid the passionate, and some will deride, fringe – elements on either side. A smart strategy for Massachusetts, but one wonders if other GOP candidates will be making the same move in the coming months.
Have a tip we should know? tips@mediaite.com
Colby Hall - Founding Editor