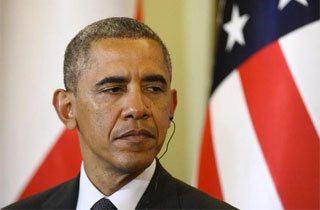 In a blow to executive power, the Supreme Court handed down a ruling today saying that President Barack Obama "exceeded his authority" by making temporary recess appointments while the Senate was still technically in session.
While the unanimous ruling still allows the President to make appointments when Congress is in recess, the opinion of NLRB v. Canning states that Obama overstepped his constitutional limits by appointing three people to the National Labor Relations Board while the Senate was in an "intra-session recess," a three-day mini-recess that was not long enough to trigger the Recess Clause (and, in fact, doesn't even require to House to approve it).
Presidents have frequently used the recess appointment to fill vacant positions since the founding of the Country, but Justice Stephen Breyer, who authored the opinion, firmly held that Obama lacked the authority to make a recess appointment while the Senate was still in a position to actually transact Senate business, and therefore could provide the "advice and consent" constitutionally needed for Obama to make the appointment.
"Three days is too short a time to bring a recess within the scope of the Clause," he wrote. "Thus we conclude that the President lacked the power to make the recess appointments here at issue."
Justices Antonin Scalia, Clarence Thomas, Samuel Alito, and Chief Justice John Roberts concurred with the judgement, but argued that Breyer's ruling severely limited the President's power. "The Court's decision transforms the recess-appointment power from a tool carefully designed to fill a narrow and specific need into a weapon to be wielded by future Presi­dents against future Senates," Scalia wrote. "To reach that result, the majority casts aside the plain, original meaning of the constitutional text in deference to late-arising historical practices that are ambiguous at best."
[Supreme Court]
[Image via Newspix.pl /WENN.com]
—
>> Follow Tina Nguyen (@Tina_Nguyen) on Twitter
Have a tip we should know? tips@mediaite.com