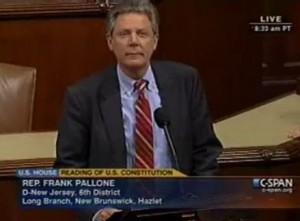 The Republicans' dueling document obsessions collided on the floor of the House of Representatives today, as a screaming "birther" in the gallery interrupted the reading of the US Constitution. The outburst was first reported in this tweet by Rep. Jim Himes (D-Ct), which read "First interruption of the reading from the Gallery. By a birther, screaming about Obama. Unintended consequences…."
We've got video of the outburst, plus what might be a comment by the alleged birther, from The Hill.

Here's the video, from C-Span:
The Hill was one of the first to publish Himes' tweet, and the first comment on that post seems to indicate that the man who caused the disruption isn't pleased with their account:
This story is crap, what can you expect from the liberal media. I never said the prez wasnt born in Hawaii. He is not a natural born citizen because his father was never a U.S. citizen, simple. BY ALBERT DAILEY on 01/06/2011 at 12:04
No other contact information for Mr. Dailey was available, and he didn't clarify the comment subsequently. The "logic" behind it, though, is indicative of the futility of efforts, most recently by Hawaii Governor Neil Abercrombie, to quell birther paranoia. These people have an intricate system of fallback positions that make it impossible to ever quiet the voices in their heads.
Update: As it turns out, the person who interrupted the reading of the Constitution was not Albert Dailey, but rather, has been identified as Theresa Cao.
Have a tip we should know? tips@mediaite.com