Sean Hannity is no stranger to online warfare.
The Fox News anchor regularly spars with his critics on Twitter with often brutal Trumpian retorts. It seems, however, that the combative newsman himself was the victim of a bit of trolling sometime last night. As Sean is certain to delete this, we've captured a screengrab.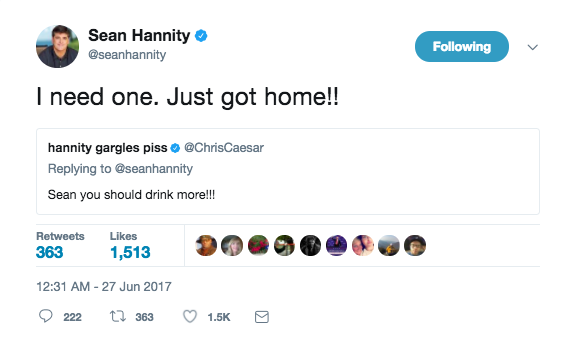 Things kicked off when Hannity retweeted a comment from @ChrisCaesar suggesting that he should "drink more." Hannity then added his own comment noting that "I need one. Just got home."
LOL @ChrisCaesar is a legend pic.twitter.com/xu70Qqw8Hs

— Brendan Karet ? (@bad_takes) June 27, 2017
Ok, so far, so good.
At the time of the tweet and retweet, @ChrisCaesar's nom de twitter was "I have died." — Little weird, but certainly an appropriate enough sentiment for our Internet age. If Hannity had been paying closer attention, however, he might have noticed @ChrisCaesar's timeline — which reveals an unabashedly liberal and trollish bent.
At some point after Hannity's retweet, @ChrisCaesar made the critical decision to change his name from "I have died" to "Hannity Gargles Piss" — which of course, make a world of change to that tweet.
In fairness to Hannity, there really is no way for him to protect himself from a troll move like this, as Twitter allows verified handles to freely change their names for any reason, and all previous tweets are automatically updated with the new name.
The Tweet has been live for 6 hours on Hannity's timeline — and might be well on its way to becoming his own "covfefe"
[image via screengrab]
Follow Jon Levine on Twitter / Facebook.
Have a tip we should know? tips@mediaite.com