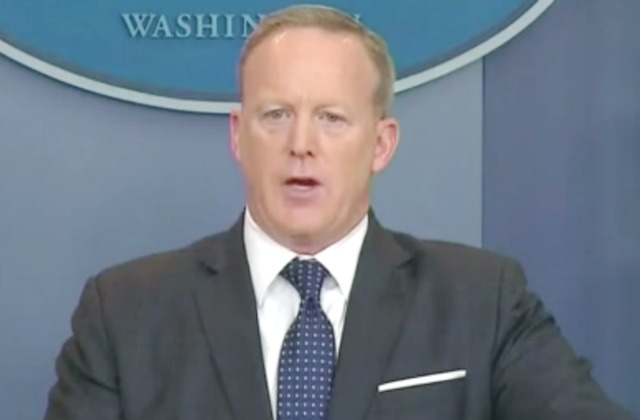 A day after his surprise Emmys cameo, former White House Press Secretary Sean Spicer is acknowledging that he does regret the infamous moment it was based off of.
Just to recap: back in January, Spicer's big debut to the American people was most notable for his insistence (and arguments with the press) that President Trump's inauguration audience was the largest ever, period.
Stephen Colbert, who mocked Spicer in his regular roasts of the Trump administration, brought Spicer on for a self-deprecating bit last night that, if nothing else, led to one hell of a reaction from Veep's Anna Chlumsky:
Anna Chlumsky's face when Sean Spicer walked out was all of us! #Emmys pic.twitter.com/3wFQKCultf

— Jarett Wieselman (@JarettSays) September 18, 2017
A lot of people were outraged at how the Emmys "normalized" Spicer for a moment of essentially acknowledging he was dishonest to the American people.
But in an interview with The New York Times' Glenn Thrush today, Spicer admitted he regrets that infamous January moment:
In an interview on Monday morning, Mr. Spicer said he now regrets one of his most infamous moments as press secretary: His decision to charge into the White House briefing room in January and criticize accurate news reports that Barack Obama's inauguration crowd was bigger than President Donald J. Trump's.

"Of course I do, absolutely," Mr. Spicer said.
He said of the Emmys bit, "This was an attempt to poke a little fun at myself and add a little bit of levity to the event."
Spicer also said the bit was Colbert's idea:
Mr. Spicer said he didn't give the president or senior White House staff a heads-up about his appearance, which had been in the works for several days.

In fact, virtually no one knew about it. According to Mr. Spicer, Mr. Colbert suggested the idea himself, and passed it to the former press secretary through his producer at CBS, who had gotten to know Mr. Spicer well years earlier when he was a producer on MSNBC's "Morning Joe."
Someone close to the Emmy planning told the Times that "Mr. Colbert and his staff regarded Mr. Spicer's appearance as both a joke at the expense of Mr. Trump and a way to poke fun at Mr. Colbert too."
[image via screengrab]
— —
Follow Josh Feldman on Twitter: @feldmaniac
Have a tip we should know? tips@mediaite.com
Josh Feldman - Senior Editor