Searching for Hillary 2016 Replacement, Top Dems Turn to ABCs: 'Anybody But Cuomo'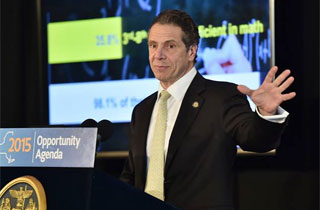 Several top New York City Democrats have told the New York Post that they've given up on Hillary Clinton as a presidential candidate after it was discovered that she conducted her business as Secretary of State on a personal email server. But in the massive vacuum of her absence, who should replace her? How about Andrew Cuomo, the current Democrat Governor of New York and heir to a beloved political dynasty? Okay, wow, slow your roll, buddy.

"There's an ABC factor at work here," a "prominent Democratic elected official" told the Post. "It's 'Anybody But Cuomo.''' Another operative agreed, saying that Cuomo was widely "hated."
While Cuomo's name was once bandied about as a strong contender for the nomination in the absence of a Hillary campaign, times have changed: Ethics scandals, an investigation into his dismantling of an ethics commission, and his reputation as "detached and aloof" have diminished his chances.
"Two years ago, there's no question Cuomo was a serious contender for the nomination," said another prominent Democrat. "But if he were to run in a primary today, I'm not sure his own brother would vote for him."
Wait: brother?! Do they refer to a specific brother who happens to be a prominent journalist at CNN? There are no other Cuomo brothers, unless this source meant "sister," or "metaphorical brother," or "any blood relative". But given that any quote-unquote "prominent Democrat" would know the connection between Andrew and Chris Cuomo, that comment was certainly not an off-handed one.
In any case: while we can speculate about whether bad blood exists between the Cuomo brothers, it's increasingly clear that the Democrats would rather be #ReadyForWarren than Cuomo:
"It could be a big progressive type like [Mass. Sen.] Elizabeth Warren or [Mayor Bill] de Blasio and maybe [former Maryland Gov.] Martin O'Malley or [Attorney General] Eric Schneiderman — there's no clear choice,'' said a New York City-area Democratic activist.

"But who it won't be is Andrew Cuomo,'' the activist added.
Yes, we get the point. Now tell us about this Cuomo brothers feud. If there is one. (Anonymous sources are always so oblique.)
[NYP]
[Image via Governor Andrew Cuomo/Facebook]
—
>> Follow Tina Nguyen (@Tina_Nguyen) on Twitter
Have a tip we should know? tips@mediaite.com