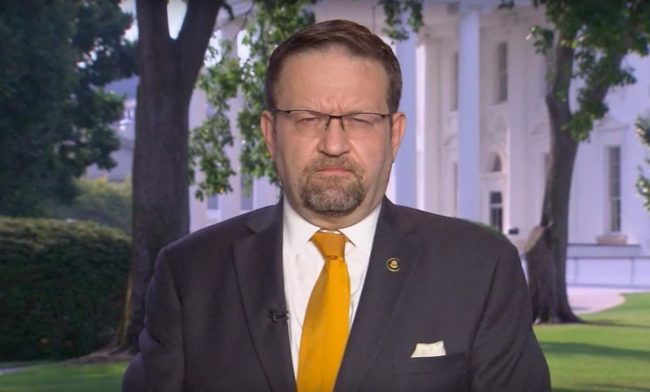 In his first interview since it was announced he was gone from the White House, former deputy assistant to the president Sebastian Gorka told SiriusXM's Breitbart News Saturday that despite reports saying he was pushed out or fired, he was the one who made the decision to leave his position.
Speaking to host Matt Boyle, Gorka wanted to immediately point out that it was his discouragement over the president's "MAGA" message being undermined by forces within the White House that led him to resign.
"I don't want to go into the palace intrigue stuff — had too much of that — but the fact is, the forces of MAGA, the Make America Great Again faces, the policy people like Steve Bannon, my old boss inside the White House, have been systematically undermined, many of them fired from the NSC," Gorka declared.
He then pointed to the president's Afghanistan speech earlier in the week as proof that the president isn't being served well by his staff, pointing out that the speech didn't contain one mention of the words "radical Islam or radical Islamic terrorism." This was something that was also pointed out in Gorka's resignation letter that was made public.
"So, I decided, just as with Steve [Bannon], we can be far more effective for the president on the outside," Gorka added. "And it's a very exciting day for me and my family at the start again to support the MAGA message as private citizens."
Later on, Boyle brought up the various reports that Gorka was fired from the White House, asking him if there was any truth to that.
"Let's get everything on the record, I decided to resign last week," Gorka said.
The former Breitbart editor went on to trash CNN over what he described their obsessive coverage of trivial things related to Trump while also offering up that the left has no idea what is about to hit them in the near-future.
Listen to the clip above, via SiruisXM.
[image via screengrab]
—
Follow Justin Baragona on Twitter: @justinbaragona
Have a tip we should know? tips@mediaite.com