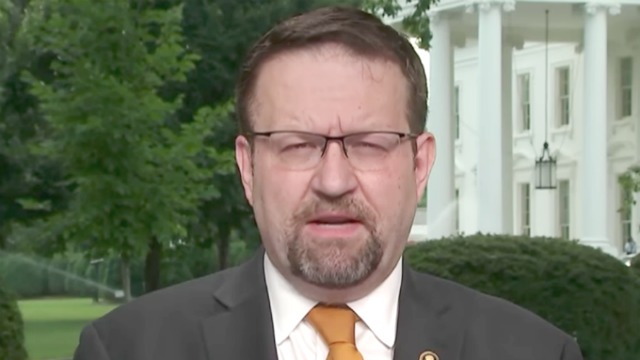 Sebastian Gorka has reportedly resigned from his position in the Trump administration.
The Federalist reports tonight that Gorka sent a resignation letter to colleagues that said the following:
"[G]iven recent events, it is clear to me that forces that do not support the MAGA promise are – for now – ascendant within the White House," Gorka wrote. "As a result, the best and most effective way I can support you, Mr. President, is from outside the People's House."
Gorka cites President Trump's Afghanistan speech this week as a reason why:
"Regrettably, outside of yourself, the individuals who most embodied and represented the policies that will 'Make America Great Again,' have been internally countered, systematically removed, or undermined in recent months. This was made patently obvious as I read the text of your speech on Afghanistan this week…

"The fact that those who drafted and approved the speech removed any mention of Radical Islam or radical Islamic terrorism proves that a crucial element of your presidential campaign has been lost…

"Just as worrying, when discussing our future actions in the region, the speech listed operational objectives without ever defining the strategic victory conditions we are fighting for. This omission should seriously disturb any national security professional, and any American who is unsatisfied with the last 16 years of disastrous policy decisions which have led to thousands of Americans killed and trillions of taxpayer dollars spent in ways that have not brought security or victory."
A White House source told The Federalist, "This was more or less going to be a done deal when Bannon submitted his resignation. Not because he didn't have a protector, but because there is no point in having your life ruined every day if you're not going to get much accomplished."
CNN has independently confirmed the report:
A White House official confirms that Seb Gorka has resigned.

— Kaitlan Collins (@kaitlancollins) August 26, 2017
There were reports about Gorka potentially being the next to go after Steve Bannon's departure, and after Charlottesville there were calls by some Democrats for Gorka to be fired.
UPDATE –– 9:15 pm ET: More news outlets are confirming that Gorka is out, though some are saying that he did not resign:
two admin officials tell me Gorka was pushed out, did not resign, had been on vacation for weeks.

— Maggie Haberman (@maggieNYT) August 26, 2017
A White House official told me: "Sebastian Gorka did not resign, but I can confirm he no longer works at the White House."

— Hunter Walker (@hunterw) August 26, 2017
Two White House officials say Sebastian Gorka did not resign, but rather was pushed out.

— Philip Rucker (@PhilipRucker) August 26, 2017
[image via screengrab]
— —
Follow Josh Feldman on Twitter: @feldmaniac
Have a tip we should know? tips@mediaite.com
Josh Feldman - Senior Editor