Secret Meeting Of Washington Post Journalists And Brass Shows Cost Cutting Likely To Impact Reporting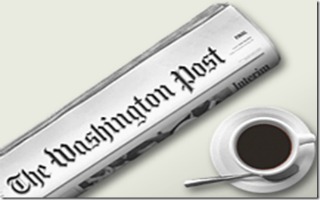 According to a report in Ad Week, the Washington Post hosted a meeting between the paper's big name journalists and management, without executive director Marcus Brauchli, where the reporters discussed increasing traffic driving features like slideshows and more but shorter reports. The participants in the meeting were allegedly urged to keep it a secret.

RELATED: Washington Post's Dana Milbank Calls Obama's Constant Campaigning 'Sleazy'
Ad Week reports that at least 10 name journalists attended the secret meeting, including Dana Priest, David Finkel and Carol Leonnig. They met with Steve Hills, president and general manager of the Washington Post who Post Co. Chairman said was "not as known to them as Marcus or other folks in the newsroom."
While the journalists expressed reservations over the loss of "newsroom resources," Hills was reportedly more interested in disabusing the journalists of the notion that "awards don't matter." He urged more traffic-driving techniques like slideshows and original Post photos and allegedly compared the paper to a Post affiliate, Ohio's Dayton Daily News – a paper with approximately 20 percent the circulation of the Post.
More strategic shifts were reportedly discussed including whether they should focus on shorter stories over more in-depth reports:
The paper also shut out of the 2012 Pulitzers and weathered a blogger embarrassment that revealed its BlogPost operation to be a mini sweatshop. As the Post looks to cut costs, there's been debate over whether the paper should spend more time on shorter projects that bear fruit faster and even speculation that the unit might be disbanded altogether. "There's been talk in the newsroom that there's been pressure to report more quickly," said Patrick Pexton, the newspaper's ombudsman.
Ad Week reports that there is a sentiment among the reporters that management lacks an "understanding of, or indifference to, how big scoops are won." The Post co., like all media companies, is dependent on a revenue stream and as print media loses advertising dollars, the company is forced to diversify its business side. Ad Week reports that, among the new revenue ideas, "the first to be green-lit is an online platform for high-school sports boosters."
h/t Ad Week
Have a tip we should know? tips@mediaite.com