Security Officer Leaves Gun Unattended In Bathroom At Kindergarten-8th Grade School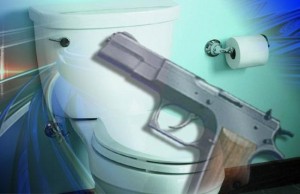 Some of the debate over gun regulation and safety, in the wake of the mass shooting at Sandy Hook Elementary School, has centered around the idea of placing armed security guards, police officers, and even armed teachers, into schools across America. A security officer at a Michigan K-8 charter school demonstrated just how large a burden of trust that is when he left his weapon unattended in a school rest room earlier this week. Thankfully, no one was hurt, and according to the school, no student came in contact with the weapon.
Even in advance of President Obama's proposal to make trained police officers available in every school that wants them, the Newtown tragedy has spurred many schools to hire armed security, and teachers to seek firearms training. As this story demonstrates, not all scholastic gun-toters are created equal. From Michigan's M-Live.com, via TPC:
The security officer "made a breach in security protocol" and left an unloaded weapon in a restroom "for a few moments," said Chatfield School Director Matt Young.

Young said the school has been in contact with local authorities about the matter and wouldn't discuss any possible repercussion for the officer, calling it "a personnel matter." Young also declined to name the security officer.

"The school has put additional security procedures in place that follow local law enforcement practices and guidelines," Young said in a statement. "At no time was any student involved in this breach of protocol. We will continue to work on improving school security."

Young stressed that no children were exposed to the handgun or put in danger, and declined to comment more on specifics of the incident.

The school recently hired the officer, who is retired from the Lapeer County Sheriff's Office, as a means to bolster school security. The effort had recently received attention in Lapeer and Genesee county media outlets.
It's a good thing the gun wasn't loaded, but then, what's the point of having an armed guard?
Keep in mind that this guy is a retired law enforcement officer, as opposed to a special ed teacher with a classroom full of kids to distract her every minute of every day. I'm not saying this proves armed guards, or even armed teachers, are a bad idea, but it certainly brings the risks into bold relief. There are many competent, vigilant teachers and security guards in the world, but would you trust your kids' lives to every teacher? To every security guard from the lowest-bidder company?
Trained police officers seem to be the best option of the three, but are hardly the only solution. Like the President, I would much prefer that the cops who guard my kids at school didn't have to face the prospect of being badly outgunned by… pretty much everyone. I would not, however, send my kids to a school guarded by sketchy rent-a-cops or jittery, Glock-packing teachers.
The local prosecutor told M-Live.com that there would probably be no charges as a result of this incident:
"If you left a gun unattended and a toddler finds it and shoots and hurts someone, it could be some kind of reckless use of a firearm," Konschuh said.

Since that did not happen, it's likely no criminal act was committed, Konschuh added.

"It's almost like no harm no foul."
Yes, it's almost like that.
(h/t TPC)
Have a tip we should know? tips@mediaite.com