Sen. Barbara Boxer Proposes Sending In National Guardsmen To Protect Schools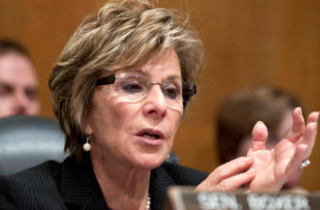 Senator Barbara Boxer (D-CA) wants to send troops into schools as a response to last week's massacre in Newtown, Conn.
In a press conference yesterday, the Democratic senator proposed sending National Guard troops into schools to keep them safe and prevent another incident like the one that left 20 children and 6 adults dead at Sandy Hook Elementary School.
Her proposal includes providing federal funds for governors who decide to send the National Guard into schools. The idea is reportedly "modeled after the National Guard program that allows governors to use the Guard to assist with law enforcement efforts related to drug interdiction activities."
She quotes the National Guard as saying it is "particularly well suited for domestic law enforcement support missions" since it is "located in over 3,000 local communities."
ABC News Radio reports:
Under the new program, Guard troops could work with law enforcement agencies to ensure schools are safe. This could take the form of additional guards at school, strengthening the perimeter security of the school or relieving local law enforcement officials who have desk jobs.

"I feel very strongly that this is an appropriate use of our national guard," Boxer said Wednesday. "The shooting at Sandy Hook Elementary is a reminder that we have failed our children."
Under Boxer's plan, the state governors could apply and have 100-percent of their plan reimbursed by the federal funds already set up by the program for states to use guardsman in drug interdictions.
[h/t Dan Bier]
— —
>> Follow Andrew Kirell (@AndrewKirell) on Twitter
Have a tip we should know? tips@mediaite.com