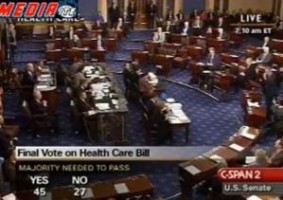 They convinced Sen. Ben Nelson. They secured Sen. Mary Landrieu. Wouldn't it be ironic if the Democrats couldn't get to 60 votes because of Majority Leader Harry Reid's 'no' vote?
Well it happened this morning, for a brief second.
As the Senate clerk took the roll call, everyone knew the inevitable – a 60-39 vote. But then Sen. Reid stood, and said 'no.' He caught himself and immediately said 'yes' as bipartisan laughter erupted. "Mr. Reid of Nevada: aye," said the clerk definitively.
With a lack of news on Christmas Eve day, the Sen. Reid slip-up became a bigger story would have likely been on another day. Since it occurred a little after 7amET this morning, CNN and MSNBC have played it seven times each and Fox News has replayed it five times, according to TV Eyes (as of 1:30pmET).
The New York Times has some background on what happened – and Reid's reaction:
He had gotten lost in the moment, on the edge of accomplishing one of the most excruciatingly difficult tasks in modern American political history, uniting the entire Democratic caucus to pass the bill after decades of failed efforts to revamp the nation's health care system.

"To be honest, I'd like to say I was trying to be funny or create some bipartisanship," Mr. Reid said in an interview. "But I was just in dreamland, thinking about where we had come. Some said 'oh bipartisanship or trying to be funny.' It was neither quite frankly. It was just, I am bushed."
Here's the moment:


—–
» Follow Steve Krakauer on Twitter
Have a tip we should know? tips@mediaite.com