Sen. Sessions: Trump Urging Death Penalty for Innocent Teens Shows He Cared About 'Law and Order'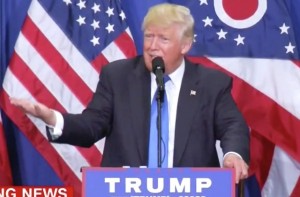 Trump ally Sen. Jeff Sessions said that Trump purchasing a full-page ad urging the death penalty for the "Central Park Five" was evidence that he cared about "law and order."
In a radio interview with WAPI, first reported by Buzzfeed, Sessions praised Trump for having the courage and audacity to stand up to liberals by advocating for the death of five teenagers, all Black or Latino, aged between 14 and 16, whose convictions for the rape of a jogger in Central Park in 1989 were ultimately vacated in 2002.
The story of the so-called Central Park Five was retold in an eponymous 2012 documentary co-directed by Ken Burns.
"He bought an ad—people say he wasn't a conservative—but he bought an ad 20 years ago in the New York Times calling for the death penalty. How many people in New York, that liberal bastion, were willing to do something like that?" Sessions said.
"So he believes in law and order and he has the strength and will to make this country safer," he continued.
The ad — actually purchased in the New York Daily News — was a direct response to the crime, and it began with a proclamation: "BRING BACK THE DEATH PENALTY. BRING BACK OUR POLICE!" Structured as an open letter signed by Trump, it read in part: "They should be forced to suffer and, when they kill, they should be executed for their crimes."
One of the teens convicted for the crime, Yuesf Salaam, was 15 when Trump called for his death. "He [Trump] was the fire starter," Salaam told The Guardian this year. "Common citizens were being manipulated and swayed into believing that we were guilty."
[h/t Buzzfeed]
—
Sam Reisman (@thericeman) is a staff editor at Mediaite.
Have a tip we should know? tips@mediaite.com