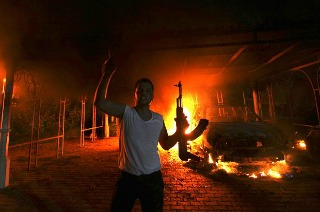 Just days after the declassified transcripts revealed that President Barack Obama was personally briefed minutes into the deadly attack on an American consulate in Benghazi on September 11, 2012, the Senate Intelligence Committee has released the redacted version of their findings following an investigation into that attack.
Documents released Monday showed that Obama was told by military officials that a sophisticated "terrorist attack" was underway in Benghazi as it was ongoing. On Wednesday, the findings of the Senate committee revealed that this deadly attack could have been prevented.
While the intelligence report indicates that there were no specific warnings leading up to the attack on the consulate, and a Libyan official who claims to have warned American authorities about a pending attack could not be confirmed, several warnings about the deteriorating security situation in eastern Libya and requests for additional security apparently went ignored.
The 85-page redacted intelligence report found that many warnings were sent to the State Department and the facility where four Americans were eventually killed had come under assault on 20 prior occasions. The report further cites multiple "tripwires" that were repeatedly crossed which signaled the need for additional security which also went unaddressed.
The report notes that, on September 18, 2012, American investigators reviewed security footage from the consulate "that showed there were no protests prior to the attacks."
RELATED: Feinstein: NY Times Benghazi Report 'Doesn't Jibe with Me'
The report faults the military for being underprepared to respond to security concerns that were expected to accompany the anniversary of the September 11,, 2001 attacks on New York City and Washington D.C. The report further faults the State Department for failing to augment security and intelligence agencies for not disclosing the extensive CIA presence in Benghazi to the U.S. military.
"The attacks were preventable, based on extensive intelligence reporting on the terrorist activity in Libya—to include prior threats and attacks against Western targets—and given the known security shortfalls at the U.S. Mission," the committee determined.
[h/t Washington Post]
[Photo via AP]
— —
> >Follow Noah Rothman (@NoahCRothman) on Twitter
Have a tip we should know? tips@mediaite.com