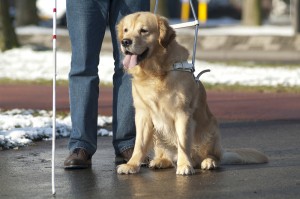 Between the woman who put a cigarette out in a reporter's face and the Australian man who attempted murder with a bulldozer, people are terrible. Like really, really awful. Then again, you're reading this on a political news site, so you already know this.
As bad as humans can be, however, dogs are simply the best. They might not hold a candle to the Internet's fascination with cats, but they're still pretty awesome. Like the service dog, Figo who threw herself in front of a mini-bus to save her blind owner:
When the service dog saw an oncoming mini school bus heading for Stone, the blind woman he was trained to guide, the golden retriever's protective instincts kicked in: He threw himself at the closest part of the vehicle he could.
Figo, a golden retriever, suffered severe injuries to the right front leg. According to Brewster Police Chief John Del Gardo, Figo's owner Audrey Stone is still "in Danbury Hospital on Tuesday, with a broken ankle and elbow and three fractured ribs." Still, had the service dog's instinct's not kicked in, things could have been a lot worse.
Yet despite it all, Figo tried to comfort Stone throughout the ordeal. Stone, meanwhile, only wanted to know whether or not her dog was okay:
"There were 15 EMTs and people all around her and the dog didn't want to leave her side," [Paul Schwartz] said. "He was flopping over to her and she didn't want him to get away from her, either. She kept screaming, 'Where's Bigo? Where's Bigo? Where's Bigo?' (sic) We kept telling her he was fine."
The driver of the bus, which was transporting two kindergartners to a nearby school, told authorities at the scene that he didn't see them crossing the road until the moment of impact.
Dogs are awesome, but this begs the question: Would your cat do this for you? Didn't think so.
[h/t The Journal News]
[Image via Shutterstock.com]
— —
>> Follow Andrew Husband (@AndrewHusband) on Twitter
Have a tip we should know? tips@mediaite.com