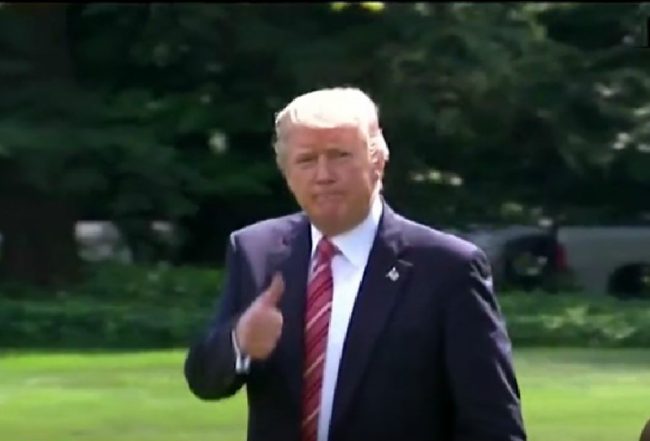 President Donald Trump appears to have woken up at his Bedminster, NJ country club to see a bevy of news reports critical of how his administration has thus far handled the recovery efforts in Puerto Rico after Hurricane Maria ravaged the island U.S. territory. And true to form, Trump turned to Twitter to hit back.
Yesterday's news cycle was not very kind to how the White House has thus far dealt with the emerging humanitarian disaster as news outlets turned their focus on this developing story (especially CNN who appear to have gone all in on it.) And to make matters worse for the Trump administration, the Washington Post published a damning account that specifically blames the hampered recovery efforts in Puerto Rico on Trump's long weekend golfing in Bedminster.
But if there was one lasting image of yesterday's news, it was that of San Juan mayor Carmen Yulin Cruz who opened the day with an interview on CNN's New Day and blasted the Trump administration, particularly Deputy Secretary of Homeland Security Elaine Duke who proclaimed that the Puerto Rican recovery efforts are a "good news story." The mayor emotionally replied, saying "this is not a good news story…people are dying," then later doubled down in a late afternoon press conference, proclaiming "we are going to see something close to genocide."
The San Juan Mayor's dramatic sounding of the alarm understandably received much media attention, to which Trump could only reply in the manner that best befits his rhetorical style — demean and discredit her on Twitter:
The Mayor of San Juan, who was very complimentary only a few days ago, has now been told by the Democrats that you must be nasty to Trump.

— Donald J. Trump (@realDonaldTrump) September 30, 2017
…Such poor leadership ability by the Mayor of San Juan, and others in Puerto Rico, who are not able to get their workers to help. They….

— Donald J. Trump (@realDonaldTrump) September 30, 2017
…want everything to be done for them when it should be a community effort. 10,000 Federal workers now on Island doing a fantastic job.

— Donald J. Trump (@realDonaldTrump) September 30, 2017
So to be clear, the President of the United States heard the angry plea of an elected leader in a U.S. Territory ask for help to avoid massive deaths, and he hears this a a political cudgel — that has been called on by his political opponents — designed only to hurt him. Check.
He then returned briefly to government efforts and retweeted various government accounts:
The military and first responders, despite no electric, roads, phones etc., have done an amazing job. Puerto Rico was totally destroyed.

— Donald J. Trump (@realDonaldTrump) September 30, 2017
.@USCG crews worked together with the @RedCross, @fema, and members of local #police, #fire and #government to distribute disaster #relief supplies, food rations and #water in Rio Grande, #PuertoRico, yesterday, following #Hurricane #Maria. Full video https://t.co/4NtrRuY0HQ pic.twitter.com/QVcmuvBdpt

— USCGSoutheast (@USCGSoutheast) September 30, 2017
⚡️ "#AirForce relief efforts in #PuertoRico & #VirginIslands"https://t.co/gonmsZusSe

— U.S. Air Force (@usairforce) September 29, 2017
VIDEO: Elements of the #DoD and @FEMA are providing humanitarian relief for #PuertoRico ?? and #USVI ?? . pic.twitter.com/veFFxeA7aL

— U.S. Dept of Defense (@DeptofDefense) September 28, 2017
But if you think Trump would miss an opportunity to hit his true enemy — the media — then you'd be sadly mistaken. Blaming the "Fake News" is a time-honored chestnut of old, and the president did not disappoint those in his base who ostensibly love to hear him blame the media:
Fake News CNN and NBC are going out of their way to disparage our great First Responders as a way to "get Trump." Not fair to FR or effort!

— Donald J. Trump (@realDonaldTrump) September 30, 2017
The Fake News Networks are working overtime in Puerto Rico doing their best to take the spirit away from our soldiers and first R's. Shame!

— Donald J. Trump (@realDonaldTrump) September 30, 2017
And there you have it. President Trump sees the problem in Puerto Rico to be a PR problem of another sort: public relations. He seems to be suggesting that i f the news outlets weren't telling the story of hampered relief efforts, then there wouldn't be an issue.
The fact that he is ostensibly "leading" this effort via Twitter from his New Jersey based golf course is another Public Relations problem, that is sure to a focus of talking head pundits in the coming news cycles.
Have a tip we should know? [email protected]