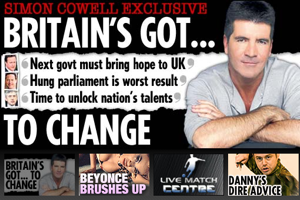 The UK parliamentary elections are tomorrow, and the Conservative Party is taking over the news cycle with the blessing of reality TV celebrity and music mogul Simon Cowell. In a profile in The Sun which has been rapidly aggregated throughout UK media, Cowell endorsed Tory candidate David Cameron for Prime Minister and gave him a mandate to change the course of the country. It seems people across the pond take celebrity endorsements a little more seriously than we do, but then again, is there a celebrity that occupies the same cultural space as Cowell in America?
The Sun's piece, "Simon Cowell's Vision for a New Britain," goes fairly in-depth into the politics of the American Idol and X Factor star, especially his views on aiding small business owners and combating knife crime, with Cowell's disclaimer that I have always hated celebrities lecturing people on politics. So forgive me." He enthusiastically endorses Cameron:
I have met David on two occasions. I liked him immediately. I trust him and he was very quick to commit to helping with a serious funding deficit for a children's hospice charity I am involved with. I have always trusted my gut instinct – and this was a guy who I thought would do the right things for this country.

I believe he is the Prime Minister Britain needs at this time. He has substance and the stomach to navigate us through difficult times.
The Cowell endorsement has made the rounds in a
great
number
of
UK
publications, and perhaps
this BBC article
's take on it best proves the media's attitude towards Cowell's take. Titled "David Cameron is Going 'All Out' to Win Election 2010," Cowell's
Sun
endorsement made it all the way up to the third sentence, sandwiched between Cameron campaign stop updates and a statement from the candidate himself:
Mr Cameron campaigned through the night talking to bakers, fishermen and paramedics in Cumbria, Lancashire, Yorkshire and Lincolnshire.

Wednesday is seeing campaign visits to the West Midlands and Wales before heading to a final rally in Bristol.

Meanwhile, X-Factor supremo Simon Cowell has come out in support of the Conservatives in the Sun newspaper.

BBC political correspondent Carole Walker said Mr Cameron had told her he felt he had momentum and there would be no let-up until the final rally on Wednesday evening.
BBC goes on to elaborate, quoting the Sun report, but the fact that Cowell's words are weighed evenly with Cameron's words and updates from the actual campaign is a strong indicator of the social capital among the media, if not the political power among voters, Cowell has accrued since his TV career began.
Have a tip we should know? tips@mediaite.com