Slate Gets Hammered For Tweeting 'Houston Doesn't Showcase "America at Its Best"'
Slate is being slammed for a tweet that undercuts the American spirit in the wake of Hurricane Harvey.
On Tuesday night, Slate tweeted the following: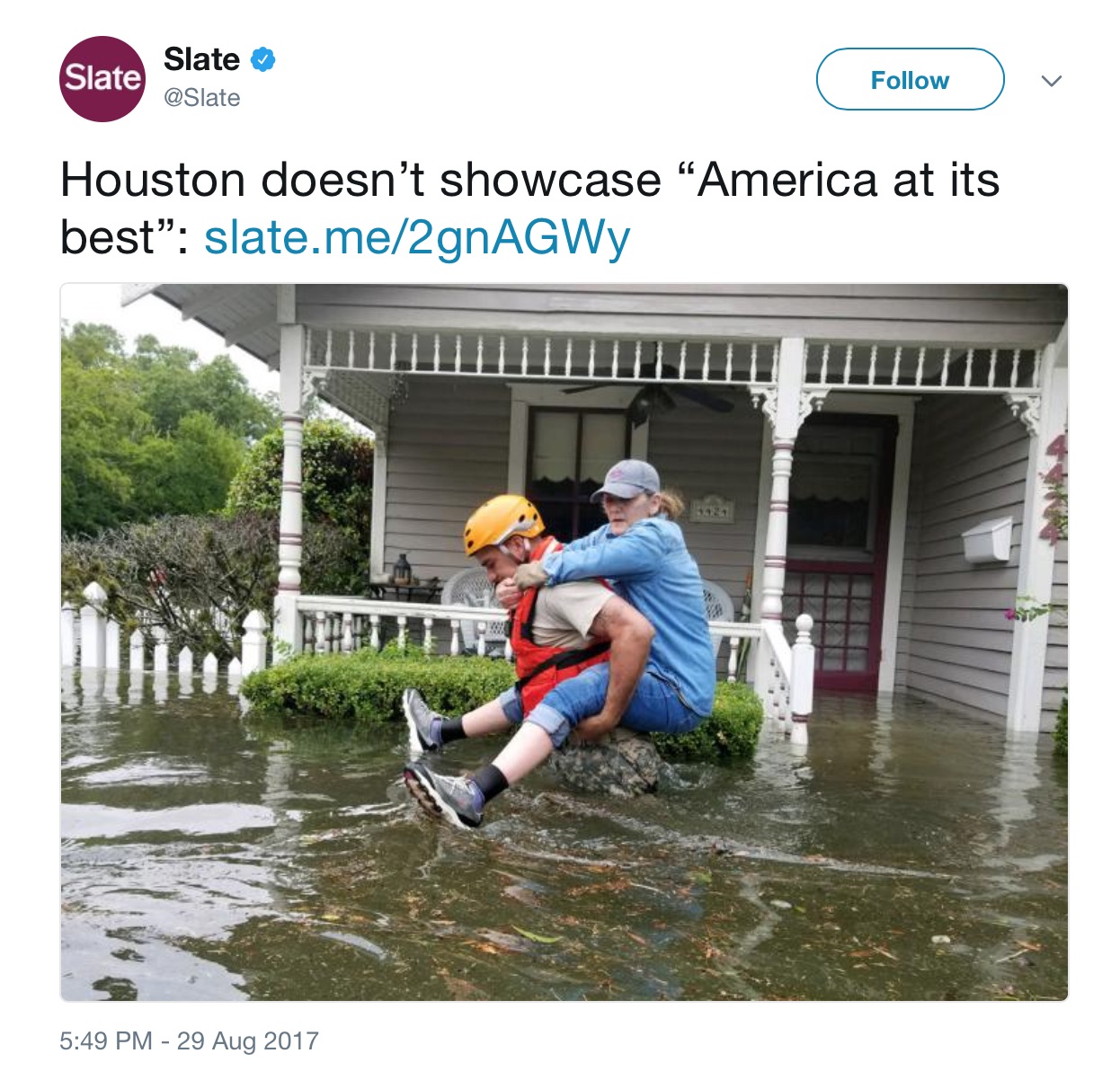 In the column written by Katy Waldman, she claims that pointing out such moments of heroism and optimism paints the country as "mythic," something she says isn't real.
She continues:
The point here is obviously not to diminish the bighearted men and women who rose to the occasion when Harvey, a "once-in-a-lifetime" storm with a spiraling death toll, slammed into Texas. But it is misleading to characterize Houston as an exhibition of the "best of America" when what it represents is a contingent America, a "paradise" specific to the "hell" around it. These waterlogged suburbs have become zones of exemption, where norms hang suspended and something lovelier and more communal has been allowed to flourish in their place. Disaster scientists have repeatedly punctured the myth, perpetuated by Hollywood and the media, that cataclysm awakens our worst selves. Rather, disruptive events loosen our mores just enough to permit new kinds of compassion.
Well, her explanation wasn't good enough to calm the Twitter reaction.
Houston Police Sgt. Steve Perez drowned today. He was "America at its best." Posting this vile piece as his family mourns is unconscionable

— Tom Sileo (@TSileo) August 30, 2017
Yes, actually it does. Slate is only running this piece to gain attention by those outraged. It's the last move of a dying website. https://t.co/XFNz1cGuBg

— Nick Short ?? (@PoliticalShort) August 30, 2017
?

— Peri Gilpin (@GilpinPeri) August 30, 2017
Gee, thanks. The hot take we all needed right now.

— Samantha Swindler (@editorswindler) August 30, 2017
It's back! The SlatePitch is back! pic.twitter.com/RbFVe7Y8N6

— Seth Mandel (@SethAMandel) August 30, 2017
Peak Slate: Unable to give praise to a state in the middle of a natural disaster because they don't vote the way Slate wants them to. https://t.co/WVzmBEL9BQ

— Josh Jordan (@NumbersMuncher) August 30, 2017
Why don't you take a couple of plays off, @xwaldie?

— John Solano (@Solano_56) August 30, 2017
The tweet has since been deleted. It apparently didn't showcase Slate at its best.
UPDATE (11:13PM): Slate made a second attempt at sharing Waldman's column with a less offensive tweet.
Natural disasters shouldn't be used for the purpose of national mythmaking: https://t.co/paTJvJ3tVf pic.twitter.com/BftHlSYPXs

— Slate (@Slate) August 30, 2017
Have a tip we should know? tips@mediaite.com