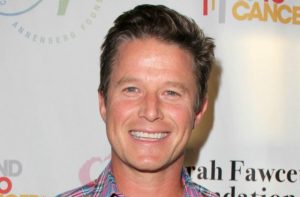 After an initial suspension followed by a week of speculation that this result was inevitable, NBC finally announced last night that Billy Bush was being let go from the Today Show because of his role in the now infamous Donald Trump "pussy" tape. However, Trump's campaign for president and the nominee of the party formerly of "family values," not only continues on but he also gets the satisfaction of having personally destroyed another member of the Bush family.
The Today Show addressed the firing this morning (on which I have appeared three times) without any real explanation of what was behind it. Some reports indicate that Bush's demise came about due mostly to incredibly bad luck, with Hurricane Matthew disrupting the original plan for NBC to release the tape with the hopes of protecting their long-time entertainment host (if true, this should, but won't, raise serious questions about why heck NBC thought it was remotely ethical to so blatantly time a news story to impact a presidential election!).
I am no fan of Bush (I criticized him earlier this year for his botched Ryan Lochte interview) or his brand of mindless banter which has completely overtaken most of the television infotainment industry. However, it certainly seems to me that Bush was terminated mostly because he was simply too good at his job.
The primary disconnect here seems to be what Bush's job really was. NBC would like to pretend that he was somehow a news(ish) interviewer, but the record is clear that for many years that was not at all what his true purpose was.
Bush's real job was to kiss the ass of celebrities in such a way as to maintain access (hell the name of the show he was on for years is called "Access Hollywood"!) and to get them to say interesting/outlandish things on camera. The fact that such an endeavor is now a job worth millions of dollars a year is rather depressing, but it is obvious that Bush was very good at it.
There can be no greater proof of that than the tape which ended up getting him fired. This was celebrity butt-smooching at its very finest and most nauseating. It was so powerful in fact that Trump's own wife, just yesterday, told CNN that Bush effectively manipulated the presidential candidate into saying things which were both (supposedly) not true and also totally outside of his normal character. This instantly provoked the hashtag #BillyBushMadeMeDoIt which, for the rest of the night, was trending on Twitter (as well as causing Republicans to wonder what happened to Trump's argument about Hillary Clinton being wrong for not believing her husband's accusers).
If that narrative is even remotely true, Bush deserved a raise, not a firing.
Think about it. If Billy Bush can really coerce alleged billionaires who are capable of being a bad fall by a 69-year old woman away from the presidency into bragging about crimes which never even happened, then he is way over-qualified to be the host of the vacuous third hour of the Today Show.
It should also pointed out that, not only did NBC apparently know about the "pussy" tape for quite some time before strategically planning to dump it before a presidential debate, but that Bush's behavior on that tape, while repugnant and probably worthy of some sort of punishment, was not nearly as outrageous as Trump's admission of sexual assault. It really says everything about this clusterfark of an election that the hypocritical standards NBC used to evaluate a second-tier Today Show host are far more stringent than even those religiously conservative Republicans have used to appraise their presidential nominee.
But the element of this story which would not be evident to most of the public and which the media has ignored out of self-interest, is how this debacle exposes what an inherent fraud almost all of the media has become. It is all just a great big game of "pretend" where the only goals are self-preservation and enhancement.
NBC was thrilled with Billy Bush when he was using sex talk to get celebrities to dish about things they normally wouldn't feel comfortable admitting/sharing. They were even clearly happy with the existence of the "pussy" tape itself (it does seem rather duplicitous that NBC would fire someone for creating content, which they would happily play on their air many times, to their great ratings benefit). They just didn't like it when the scam of how the sausage gets made was exposed in a manner which may have made Bush look bad to stay-at-home moms, who make up much of the show's viewership.
That's really what you should take away from the Billy Bush aspect of this episode. Truth, consistency, and fairness mean nothing at all in the media. It is all about what is best for everyone involved to keep their cushy gigs in a shrinking industry on that particular day. That's it. Everything else, even at the most formerly-esteemed journalistic outlets, is just an act. An act at which Bush was simply too effective.
— —
John Ziegler is a nationally-syndicated radio talk show host and documentary filmmaker. You can follow him on Twitter at @ZigManFreud or email him at johnz@mediaite.com.
— —
This is an opinion piece. The views expressed in this article are those of just the author.
This is an opinion piece. The views expressed in this article are those of just the author.